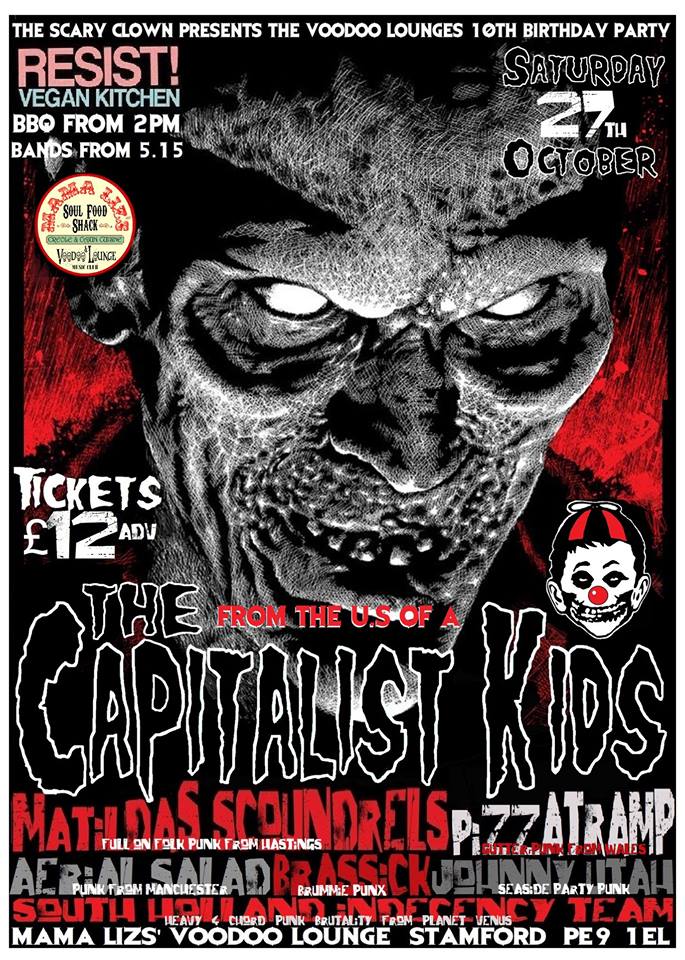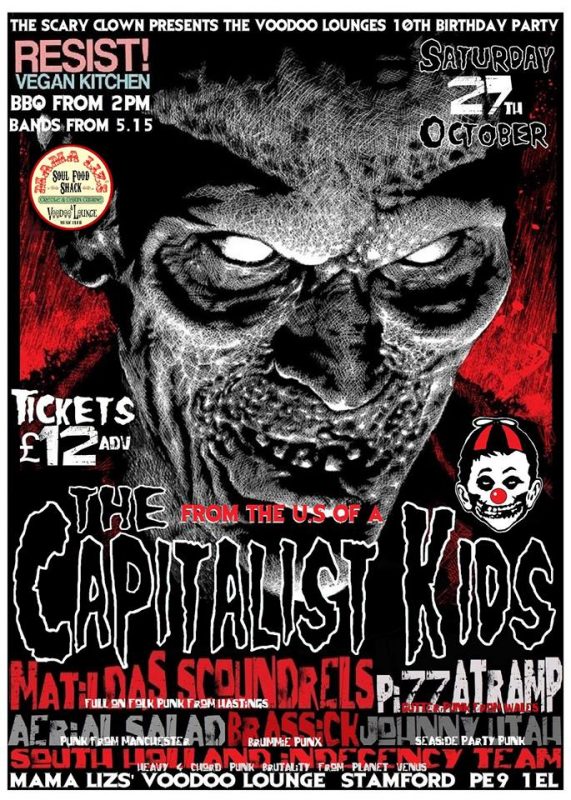 We've been putting on gigs for quite a few years now – but our main venue, Mama Liz's Voodoo Lounge, has been around even longer.  This October it celebrates its 10th year putting on shows, and we are very proud to be able to put on the official gig to celebrate that fact.
The only thing which would really celebrate this birthday would be one of our huge 1/2 dayers, so we've booked seven cracking bands to join us – including a band all the way from the USA – The Capitalist Kids!   They are touring the UK with Aerial Salad, who played one of their earliest gigs with us under the wing of Alex Wonk.  We are lucky to be able to bring both bands along to Stamford, to join the rest of the amazing line-up!
We start the day at 2pm, with one of our famous 'chill sessions' for the first three hours – just come along and have a beer or cocktail, and why not try some of the amazing Vegan street food from our friends Resist! Vegan Kitchen?   Come 5.15pm we should all be nicely relaxed and ready for SEVEN DIY PUNK BANDS, who will be rocking down in the Voodoo Lounge until late.   Children are allowed if with an adult, so feel free to bring along those budding punks!
Tickets are £12 advance, and will be £15 on the door, so save £3 per ticket if you order from our ticket shop before the event!
THE CAPITALIST KIDS – Tight punk power pop from Austin Texas LP available on Brassneck Records.
MATILDAS SCOUNDRELS – a folk party punk band from Hastings which you seem to see on hundreds of gig fliers! About time we brought em up to get dancing – one of the best bands on the DIY scene.
PIZZA TRAMP – omg the boys from Wales are coming back – and we know you love these three silly chaps. Come and see them smash the place up, get drunk, and probably blow your minds.
AERIAL SALAD – Welcome and overdue return for the Manchester trio who have been touring like loonies since their last visit!!!
BRASSICK – Hi Energy Punk hardcore with rocking licks from the West Midlands making their Stamford debut!
JOHNNY UTAH – Paying tribute to a time were music was valid, urgent, fun, and vital. Johnny Utah provide you with punk rock anthems of the 80's and early 90's
S.H.I.T. – brutal 4 chord punk rock reminiscent of Mower era Chaos UK