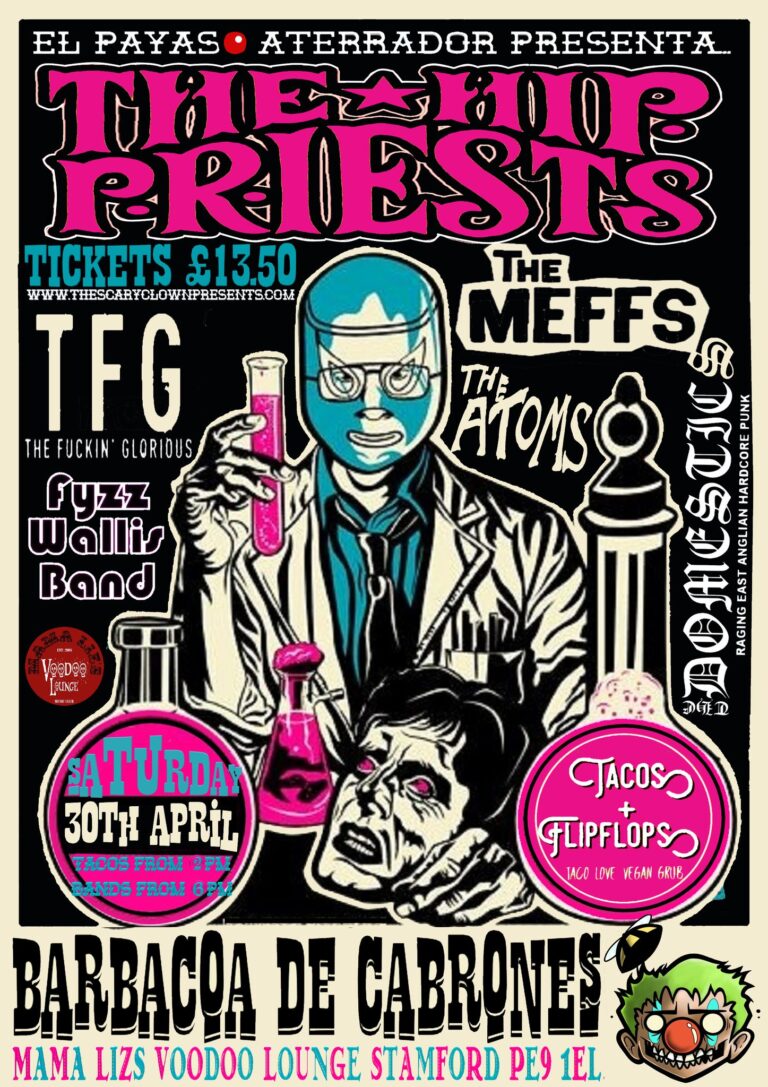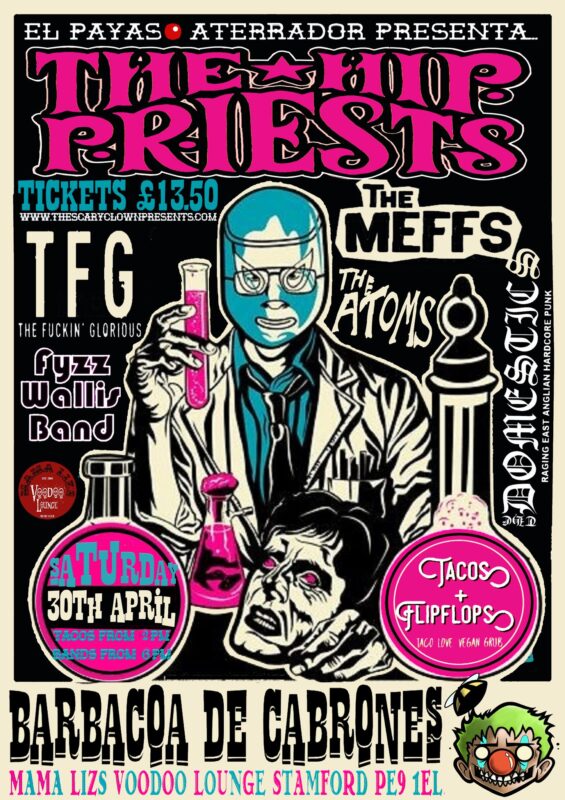 THE SCARY CLOWN PRESENTS…
OUR FAMED "BBQ" HALF DAYER GIG
PUNK ROCK BBQ!
Pay on the door!
Our half-dayer may not have the history of Skate-aid all-dayer, but it's already one of your favorite gigs of the year.  We've been planning it for some time – vegan BBQ food (burgers and dogz), the bands… so get 30th April 2022 in your diaries and make sure you buy your tickets – and remember – it's an afternoon start for eating food and socializing with great people… then we head down into Mama Liz's Voodoo Lounge from 6pm for six bands of music.
Tacos and Flip Fops now cannot unfortunately make the day, so instead the Scary Clown posse will be cooking up a treat from 2pm (menu below). Brewer Warren will be putting together a special one-off craft beer that will be sold 2 to 6 whilst we cook up a storm. All beer and food profits will go direct to Sadie and her family (see below).
Advance tickets now OFF SALE – so pay at the door only (£13.50 – doors 5.45pm), or see us in the lower beer garden to pay by card/cash to get a wristband for entry.
Yep that's right… SIX BANDS, food, beers & and hangs from 2pm, music from 6pm.   Good times!
CHARITY ELEMENT
Sadie Kemp. So our pal Becky got in touch and told us a story about her friend Sadie Kemp and the battle she is currently having. Sadie was admitted to the hospital at Christmas with sepsis and went into a coma. Her life was in danger but she pulled through and is now recovering. Unfortunately, her limbs have suffered considerably and she is still facing a medical battle and some life changing times ahead. Becky is organizing an event in their local in Sawtry but when she told us Sadies story we wanted to do something too. Becky told us about how Sadie has kept her sense of humour, about her determination to recover, and her love of rock and heavy music. Sadie is also a Mum to 2 kids.  So there will be a collection and a RAFFLE on the day.  This story has now made national news.
The bands have all been pestered and are very happy to donate merch for prizes so there will be a raffle of 6 prize draws with a ticket pulled by each band at the start of their set. Each merch prize will be topped up with other stuff from folks we are going to harass to donate. We will put one of our five test pressings of the Scary Clown compilation into the prize mix. Its a win win. Anyone that has a prize to add to one of the 6 prize hampers give us a shout (through our Facebook page).
COVID STRIKES AGAIN – The Domestics have had to pull out last minute, so Parallel States from Notts join the fun!
LINE-UP CONFIRMED!
Advance tickets now OFF SALE – so pay at the door only (£13.50 – doors 5.45pm), or see us in the lower beer garden to pay by card/cash to get a wristband for entry.
MENU

PRIZES
Fyzz W prize bundle – Fyzz Wallis Band merch, a cake!  Das Kapitans Merch, Fuzz and the Felts shirt
Parallel States prize bundle – Domestics merch, Chewed Up/Casual Nausea split vinyl, 2 x 7″ vinyl tribute to Tom Waits and Tribute to ROTPM
The Atoms prize bundle – The Atoms merch, Spoilers merch, Scary Clown zip hoody, Scary Clown Sweatshirt
The Fuckin Glorious bundle – TFG merch, test pressing of The First Five Years Scrary Clown double vinyl, English Rose Tattoo merch and Vouchers
The Meffs bundle – Meffs merch, Wagamamas meal for 2 voucher, The Menstrual Cramps merch
The Hip Priests bundle – Hip Priests merch, £100 voucher for Dan Allen Tattoo in Norwich.
This is the swag we have so far. More goodies may arrive this week before Saturday. If stuff arrives in time I'll add it to a prize bundle or 2.
Tickets a measly pound each. All coffers to Sadie. Prize is drawn at the start of each set.