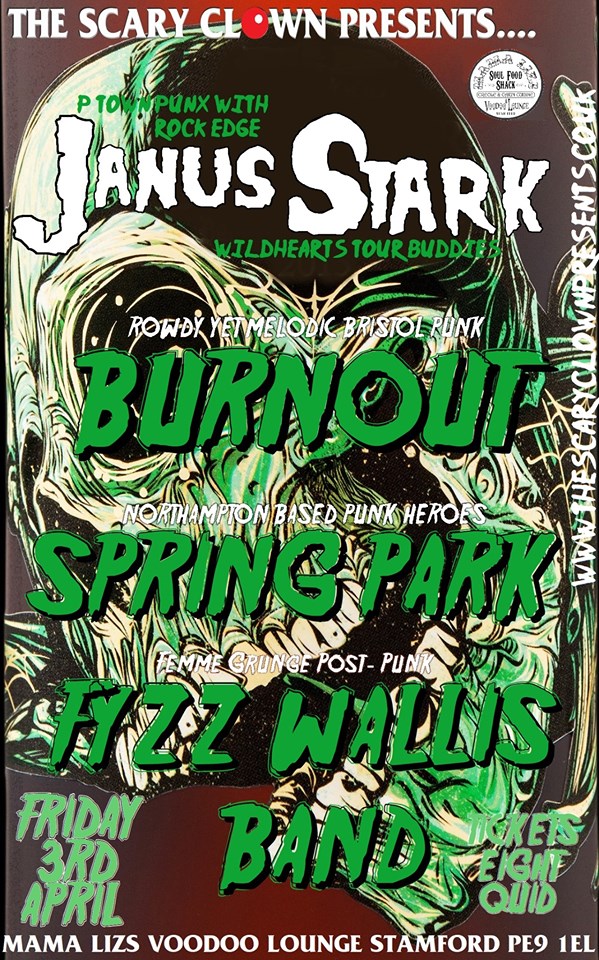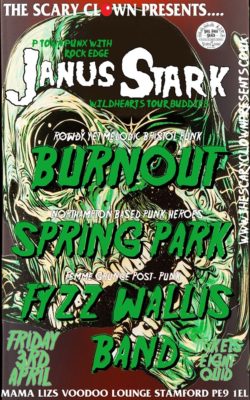 Janus Stark + Burnout + Spring Park + Fyzz Wallis Band
April 3, 2020
Stamford, Lincs (United Kingdom)
Cancelled
Details
Time : 8pm
Venue : Mama Lizs Voodoo Lounge
Address : 9A North St, Stamford, Lincs
State : Lincs
Zip : PE9 1EL

Unfortunately due to the current virus situation we've taken the very hard decision to cancel this gig.  Not something we do lightly!  But for everyone's health sake it's the only responsible thing we could do.  There will be more gigs, and it's not worth the risk.   We will start refunding tickets very soon.  Thanks for your understanding  

Yep Gizz Butt's local punk rockers "JANUS STARK" come back to Mama Liz's, and this time they are bringing their new album with them!    Janus Stark appeared in the 1990s, signing to Earache, touring, and making a name for themselves very quickly!  Unfortunately, they spilt up way too soon.   In 2018 the legendary local axeman Gizz decided to reform Janus Stark and asked Richard Gombault of 90's Pop Punk trio Midget to join along with long-standing close friends Fozzy Dixon and Simon Martin. The reunion gig was the Hamburg Punk festival Booze Cruise.  Their first gig in the UK was put on by us Scary Clown's at the Ostrich Inn, and now in 2020 the journey continues…

SUPPORT COMES FROM:

BURNOUT:  These lads from Taunton blew a lot of us away at this year's Wonkfest – and we'd had quite a few of you asking for us to bring them up our way – and how could we refuse?  Raw, full of energy, a singing drummer – what's not to like?  https://www.facebook.com/burnout.thirteen/

SPRING PARK: Their second gig with us – their first was supporting Janus Stark at Mama Liz's, so we thought we'd reunite the bands, as they have become firm friends.  Spring Park's sound has a fist full of punk fury you're likely to hear from the 77 sound of bands like The UK Subs and The Damned from the good old days, but delivered with the modern pop punk hooks you'd find amongst the likes of NOFX, Green Day and Mest.   https://www.facebook.com/springparkuk/

Fyzz Wallis Band:    A local band who are really making a mark on the scene, not only playing but also putting on gigs and events in Peterborough and Stamford.   We're not sure how they've not played for us before, but we've remedied that now.  Branded 'The Punk Poetess of Peterborough' by local DJ Doc Mason, after the 1st of many live radio sessions, Fyzz is now joined by Zoe Spencer (bass) and Chris Ballard (drums) who have together molded their 'femme grunge post-punk' sound.

Bung 3rd April in your diary and make sure you get tickets as it's going to draw a big crowd!

NOTE:  This a rare Friday gig!