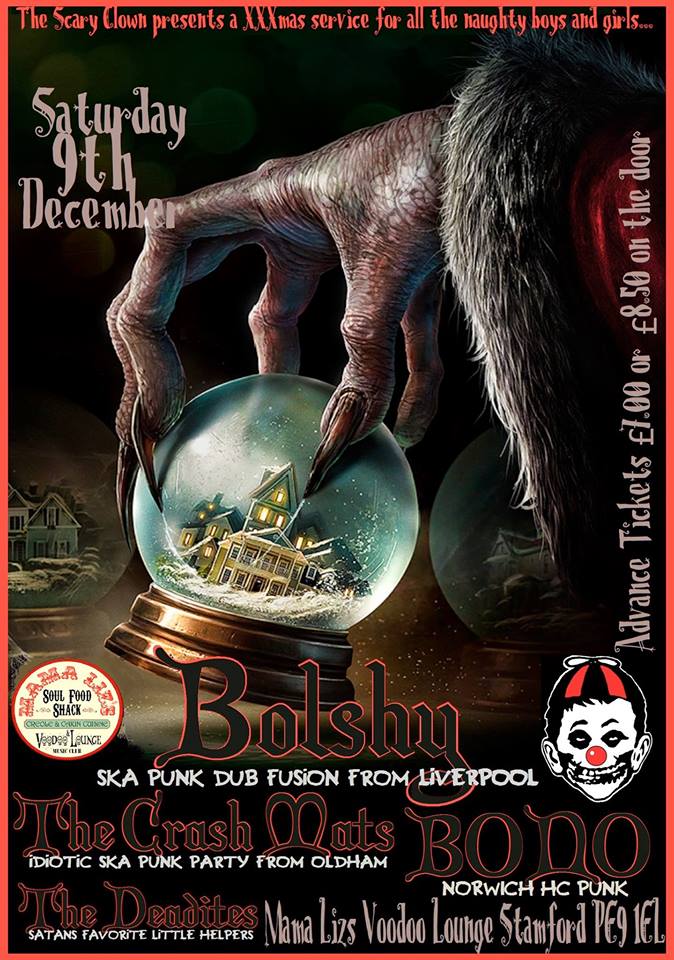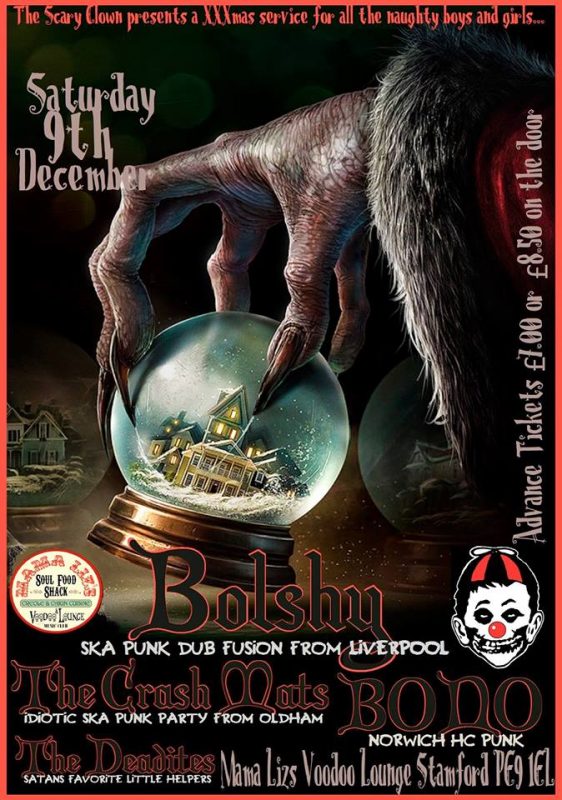 Our small gang of reprobates at The Scary Clown Presents… would like to thank every single band, and every one of you who came along to our gigs in 2017.  After initially believing we would be winding down… we actually probably put on more shows than ever, extending ourselves from our lovely base at Mama Liz's Voodoo Lounge to put smaller acoustic shows on at the Ostrich Inn in Peterborough town centre.  This year has also seen us invest some of our hard earned dosh in a back-line – adding a brand new Marshall guitar amp, a big chunky bass amp, and a set of drum shells (and now high-hat and cymbal stands!).  This allows the visiting bands to come 'light' – and hopefully encourage more bands to come along.
We have lots planned for 2018 – a gig in March is already organised (tickets going up soon), our April BBQ and Gig is pretty much fully booked up with bands – and there's going to be an exciting announcement about the dual headliners of that!  We also have our Skate-Aid 5 all dayer in the planning stage, with bands being approached for that line-up.
We've just got our DIY Punk XMAS PARTY gig to come, on 9th December…
Venue:  Mama Liz's Voodoo Lounge,
Tix:  £7 advance, or pay £8.50 on the night.
Date:  Saturday 9th December 2017
LINE-UP
Bolshy from Liverpool are gonna make you shake your baubles xhttps://www.facebook.com/bolshyliverpool/
The Crash Mats are a total party band!!  Ska and Fun.  https://www.facebook.com/TheCrashMats/
BONO are hardcore punk from Norwich https://www.facebook.com/bonohardcore/
The Deadites are firm Scary Clown favourites and damn sexy too! https://www.facebook.com/thedeaditesuk/
Get your tickets to our Xmas Party gig here.