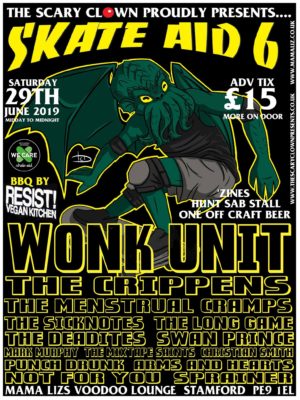 Wonk Unit + The Cripens + The Menstrual Cramps + The Siknotes + The Long Game + loads more!
June 29, 2019
Stamford, Lincs (United Kingdom)
Details
Time : 12 noon
Venue : Mama Lizs Voodoo Lounge
Address : 9A North St, Stamford, Lincs
State : Lincs
Zip : PE9 1EL

14 acts, one massive all dayer of a punk gig!  Our Skate-aid 6 all-dayer is our biggest diy punk gig of the year, taking over upstairs and downstairs, inside and outside!  We start with three great bands downstairs, then back up to the beer garden for an amazing vegan BBQ outside by our good mates at Resist! Vegan Kitchen.  Enjoy the June sun as you chill with a cold drink, decent food, great company, and FOUR acoustic acts in the back bar.

Probably a specially brewed beer again, helping to raise money for Skate-aid charity.  Possibly a few stalls too – and all in aid of Skate-aid charity, raising funds to put skate-parks in some of the worlds most deprived areas of the world.

Our headliner is once again the mighty kings of the DIY punk scene in the UK – WONK UNIT!   Alex Wonk brings the gang back once more to play one of our gigs – it's a Scary Clown Presents institution!

TICKETS ARE £15 for 14 acts – a quid a band is fantastic value for money!!
LINE-UP IS….
evening session…
WONK UNIT
The Crippens
The Menstrual Cramps
The Siknotes
The Long Game (aka Skaciety)
Swan Prince
The Deadites

acoustic session…
Mark Murphy (Croc Gods/No Marks)
Sam Maloney (Mixtape Saints)
Christian Smith
Arms and Hearts  
early session…
Not for You
Punch Drunk
Sprainer