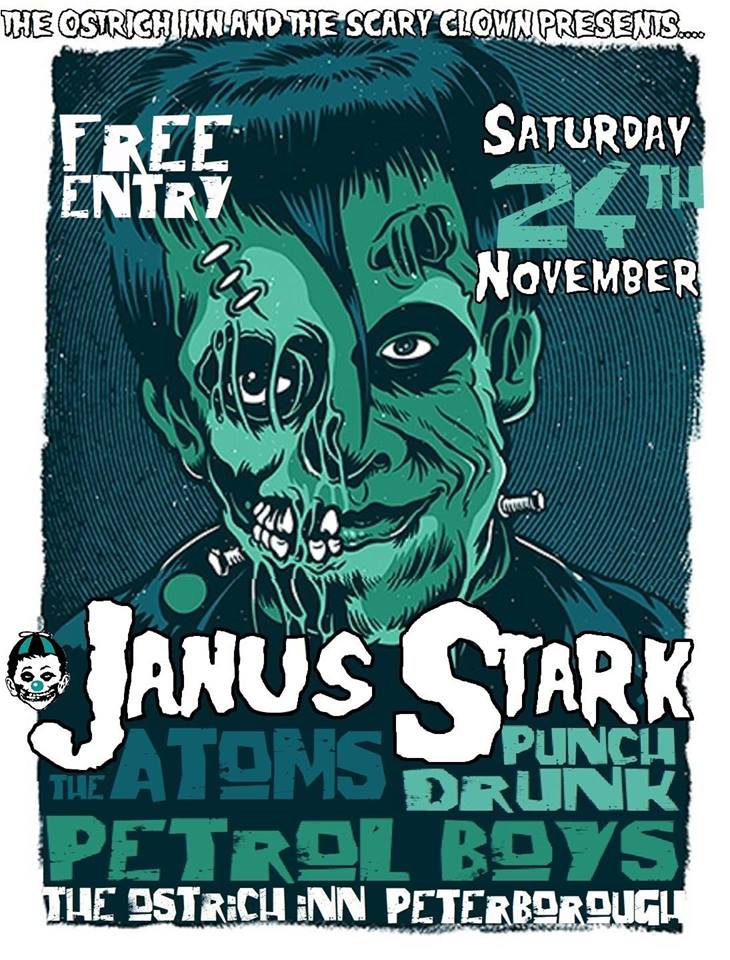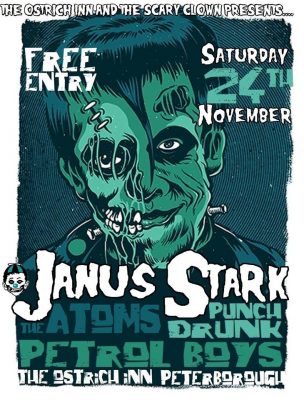 Janus Stark + The Atoms + PUNCH DRUNK + The Petrol Boys
November 24, 2018
Peterborough
Free
Details
Time : 7.00pm
Venue : Ostrich Inn
Address : 17 North Street, Peterborough
Zip : PE1 2RA

Peterborough punk legend Gizz Butt Gets the Band Back Together – Janus Stark first UK gig in many years!

Yep you've read right, Peterborough's own guitar god has reformed his late 90's punk band Janus Stark, and they will start their comeback with us at the Ostrich Inn. Come along to this free entry gig and be part of a little bit of local history.  Note the early start!  First band playing 7.30pm sharp.

FULL LINE-UP:

JANUS STARK – back in action after a hiatus and playing their first hometown gig in umpteen years!
https://www.facebook.com/JanusStarkBand/?ref=br_rs

THE ATOMS – Fresh the golden beaches of the east midlands the finest surf threesome in all of Derby
https://www.facebook.com/theatomsuk/

PUNCH DRUNK – Punk/Pop/Grunge/Emo/Rock from Nottingham
https://www.facebook.com/pg/PunchDrunkPunkRock/about/?ref=page_internal

PETROL BOYS – P Town Three piece punk/hip-hop/reggae band
https://www.facebook.com/pg/PETROLBOYS/about/?ref=page_internal

FREE ENTRY DIY PUNK GIG

The Ostrich Inn is a fantastic small venue – while it's not your idea gig venue, it makes up for its size and shape with an amazing buzzing atmosphere.  The landlord Simon is growing the pub at the heart of a bit of an artistic revolution in Peterborough – hosting artists work, art battle nights, vegan popup food, and plenty of original music gigs, including working with us to bring the DIY Punk scene to the heart of Peterborough town, putting on free entry gigs to help bring new people to the scene.