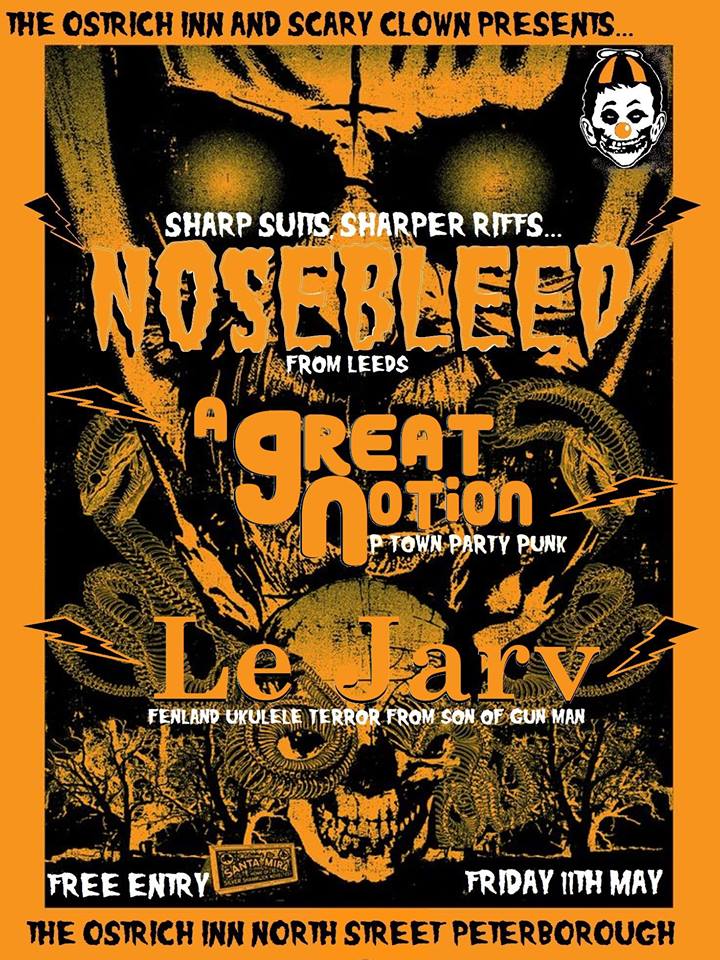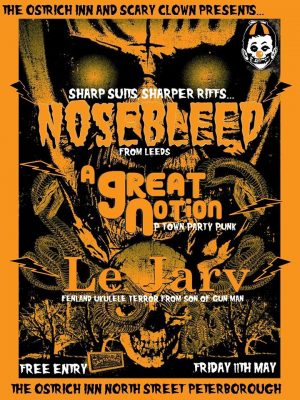 Nosebleed + A Great Notion + Le Jarv
May 11, 2018
Peterborough, Cambridgeshire (UK)
Free
Details
Time : 8pm
Venue : Ostrich Inn
Address : 17 North Street, PE1 2RA, Peterborough
State : Cambridgeshire
Zip : PE1 2RA

One of our favourite bands NOSEBLEED is releasing a much anticipated album "Scratching Circles on the Dancefloor"- and we and the Ostrich Inn are hosting them on their tour!

Nosebleed have delighted punters at our shows before, but if you've not had the pleasure before, in their own words; "No frills, smouldering, riffy garage punk from Leeds."
https://www.facebook.com/nosebleedband/

THE BEST DRESSED LADS IN DIY PUNK!

A GREAT NOTION
================
No SCP gig would be complete without a local band (apart from those which don't) – and we've got the best * – A GREAT NOTION (full band**) complete the line-up! https://www.facebook.com/agreatnotionmusic/

* best at a cheap price, haha. ** full but not standard!

LE JARV
===========

https://www.youtube.com/watch?v=_KwSkfEIzSU

A good friend of us Scary Clown's returns in his solo form, playing an acoustic set of heartfelt local songs, for local people.

So bring your 2nd best dancing shoes and join us for a night of noisy garage punk! FREE ENTRY! BEER!