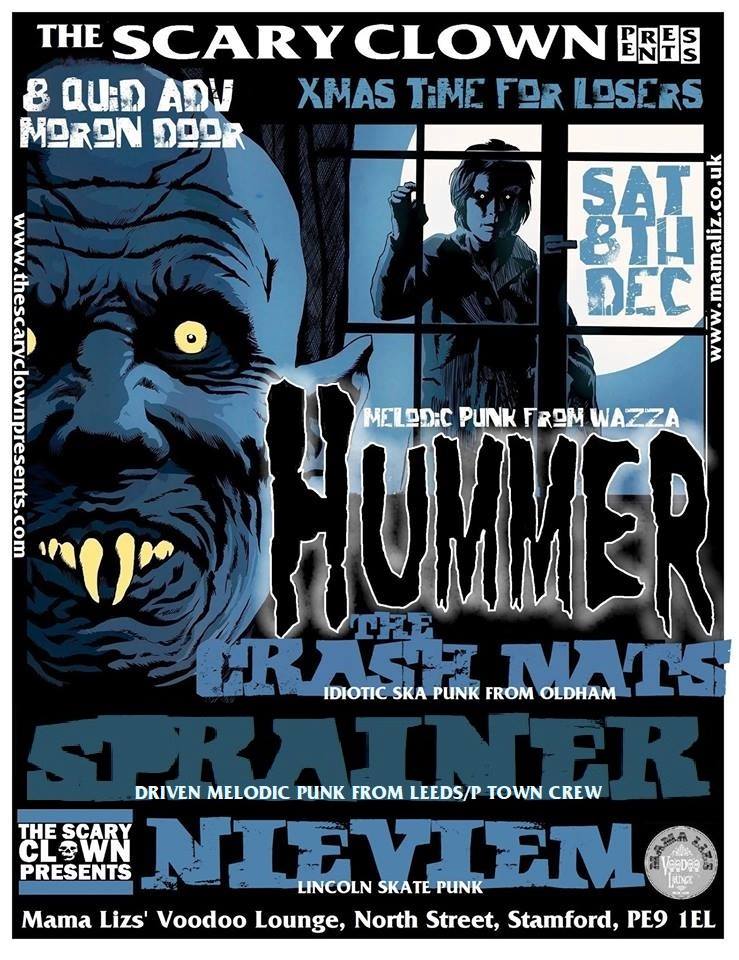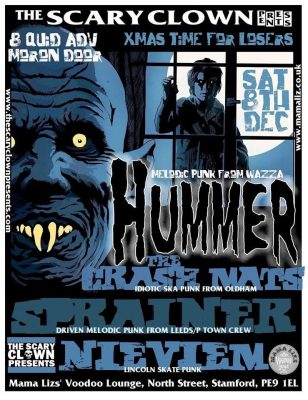 Hummer, The Crash Mats, Sprainer, Neiviem
December 8, 2018
Stamford, Lincs (UK)
Details
Time : 8pm
Venue : Mama Lizs Voodoo Lounge
Address : 9A North St, Stamford, Lincs
State : Lincs
Zip : PE9 1EL

No December would be complete without a Scary Clown Presents… XMAS PARTY GIG.  So of course we've organised one! TICKETS ON THE DOOR ONLY NOW

At our Stamford venue Mama Liz's we have assembled four bands who are all going to get a party started and ended!  Three new bands for us, Hummer, Nieviem and Sprainer (replacing the Kirkz at last minute) and making a welcome return, the party animals themselves, The Crash Mats!  Join us for an Xmas themed party gig!  Bring yer party hat!
BRING CHOCOLATE BARS
We will be doing our tradition chocolate bar collection at this Xmas party gig. Please buy a few bars so we can donate them so some less fortunate folk can have a small treat thanks to lovely punks as yourselves!  
Christmas time for losers in Mama Lizs Voodoo Lounge with…
Hummer https://www.facebook.com/hummerpunkrock/
The Crash Mats https://www.facebook.com/TheCrashMats/
Sprainer – super subs from Peterborough step in last minute to save the day.  Cracking band they are too!
Nieviem – https://www.facebook.com/nieviem/
 TICKETS ON THE DOOR ONLY NOW