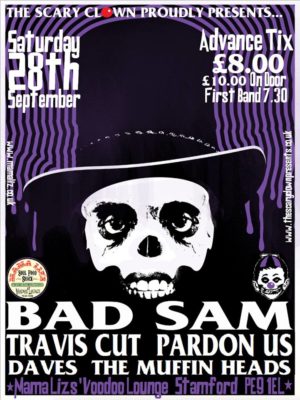 Bad Sam + Travis Cut + Pardon Us + Daves + The Muffin Heads
September 28, 2019
Stamford, Lincs (UK)
Details
Time : 7pm
Venue : Mama Lizs Voodoo Lounge
Address : 9A North St, Stamford, Lincs
State : Lincs
Zip : PE9 1EL

Scary Clown Presents a gig of rare appearances…

Bad Sam!!!  Finally lured over to Stamford to bring their frantic melody driven punk eastwards. Featuring former members of The Cowboy Killers, Dub War, Da Capo and more… https://www.facebook.com/Bad-Sam-78100603110/

Travis Cut: Back in the saddle with their heartfelt punk smashers.https://www.facebook.com/TravisCutBand/

Pardon Us: Dynamite Liverpudlian 3 piece with immaculate manners. https://www.facebook.com/wearepardonus/

Daves: Up and coming Davecore from Leeds. https://www.facebook.com/wearedaves/

The Muffin Heads: Tasty Grunge tinged alt-rock from Harlow. https://www.facebook.com/themuffinheads/

TICKETS HERE:  £8 advance, £10 on the door.

VENUE INFO:  Mama Liz's is a great music venue downstairs in the cellar, with a cracking large bar and restaurant upstairs.  So if you're travelling, they do some great bar food – or eat in the main restaurant if you like.  More info on their website.  PARKING:  There's a bug carpark directly opposite the venue – and I THINK parking is free after 6pm, so sorted.  Just pop PE9 1EL into your sat nav.