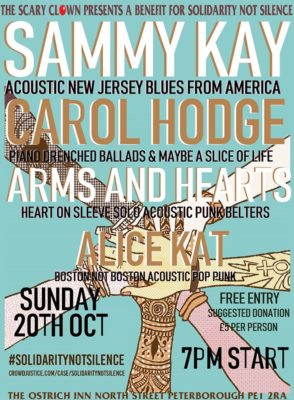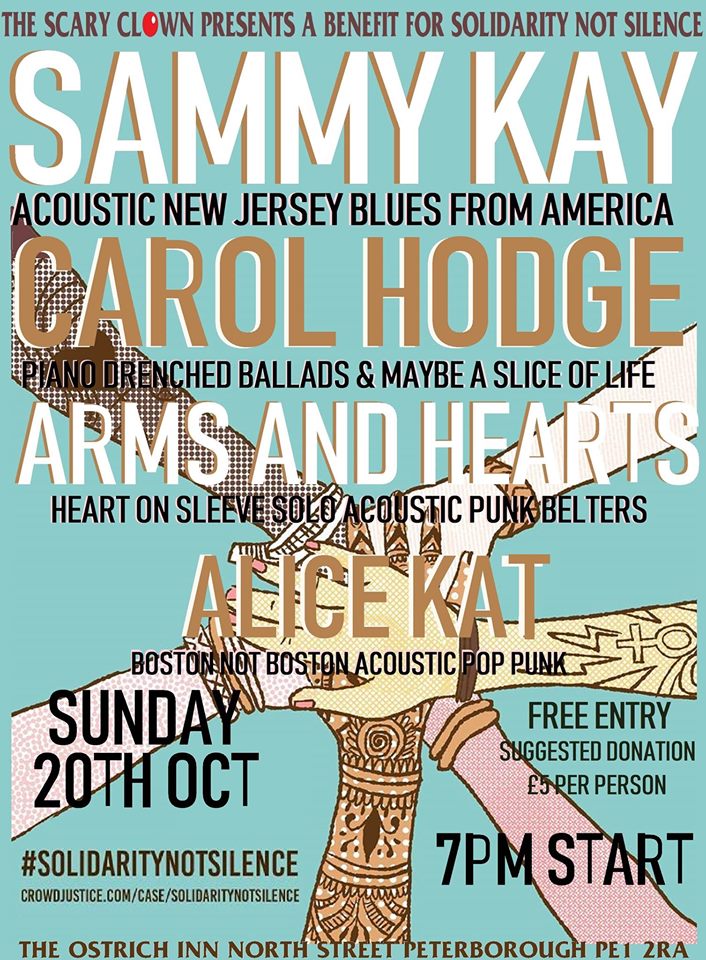 Sammy Kay + Carol Hodge + Arms & Hearts + Alice Kat
October 20, 2019
Peterborough, Cambs (GB)
Free
Details
Time : 7.30pm
Venue : The Ostrich Inn
Address : 17 North Street, Peterborough
State : Cambs
Zip : PE1 2RA

We return to our 2nd home at the Ostrich for an acoustic fundraiser for a cause which is very important to our DIY Punk scene!  FREE ENTRY BUT £5 DONATION SUGGESTED!

All the way from New Jersey Sammy Kay brings his acoustic Jersey blues for your listening pleasure.

Support from Carol Hodge of Crass/Slice of Life playing a solo set of her beautiful and haunting piano drenched melodies.

Also Arms and Hearts, small in stature mighty of voice, returns with his acoustic punk tales.

And joining us for the first time; Alice Kat from Boston (Not Boston) brings her melodic soft pop-rock with punk influences, stripped back to acoustic sharing delicate lyrics.

This night will be a fundraiser to support our friends currently involved with the #SolidarityNotSilence campaign. This will be a free gig but we will be asking for donations for the campaign and feel that £5 non-compulsory donation is fair x

We Scary Clown's 100% stand behind the women (some of who are friends) being unjustly chased through the courts by 'Itch' – who certainly does not stand for our DIY scene.  BELEIVE VICTIMS NOT ABUSERS!