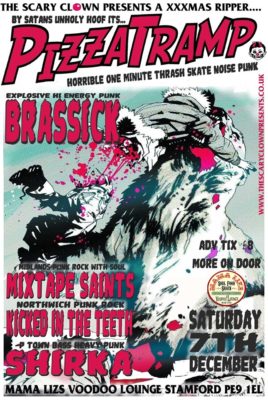 Pizzatramp + Mixtape Saints + Kicked in the teeth + Shirka
December 7, 2019
Stamford, Lincs (UK)
Details
Time : 7.00pm
Venue : Mama Lizs Voodoo Lounge
Address : 9A North St, Stamford, Lincs
State : Lincs
Zip : PE9 1EL

It's not Christmas without a Scary Clown Party!

And what's a party without our mates and scene hot property, PIZZATRAMP!!  (Or Pizza Tramp, even they don't know how it's spelt!).  Yes those thrasher punks from Wales are driving all the way to Stamford again for another night of mayhem and shenanigans!   About bloody time too.  What better way to prepare for the festive season than destroying your eardrums to the aural yuletide logs of Pizzatramp?

Support from Brassick, Mixtape Saints (full band), Kicked in the Teeth making their Scary Clown debut and P Towns newest legends in the waiting Shirka!!!