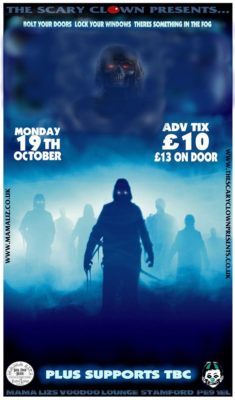 TBA + TBA
October 19, 2020
Stamford, Lincs (United Kingdom)
Details

Venue : Mama Lizs Voodoo Lounge
Address : 9A North St, Stamford, Lincs
State : Lincs
Zip : PE9 1EL

A very special gig with an amazing band us Scary Clown's have been trying to bring to Mama Lizs for ages!  So special Mama Liz's are opening especially just for this gig.

Yes it is a MONDAY night – we're suggesting you book the Tuesday off if you can, as you're not going to want to miss this one!

Details TBC Save the date. Oh and its a good un!