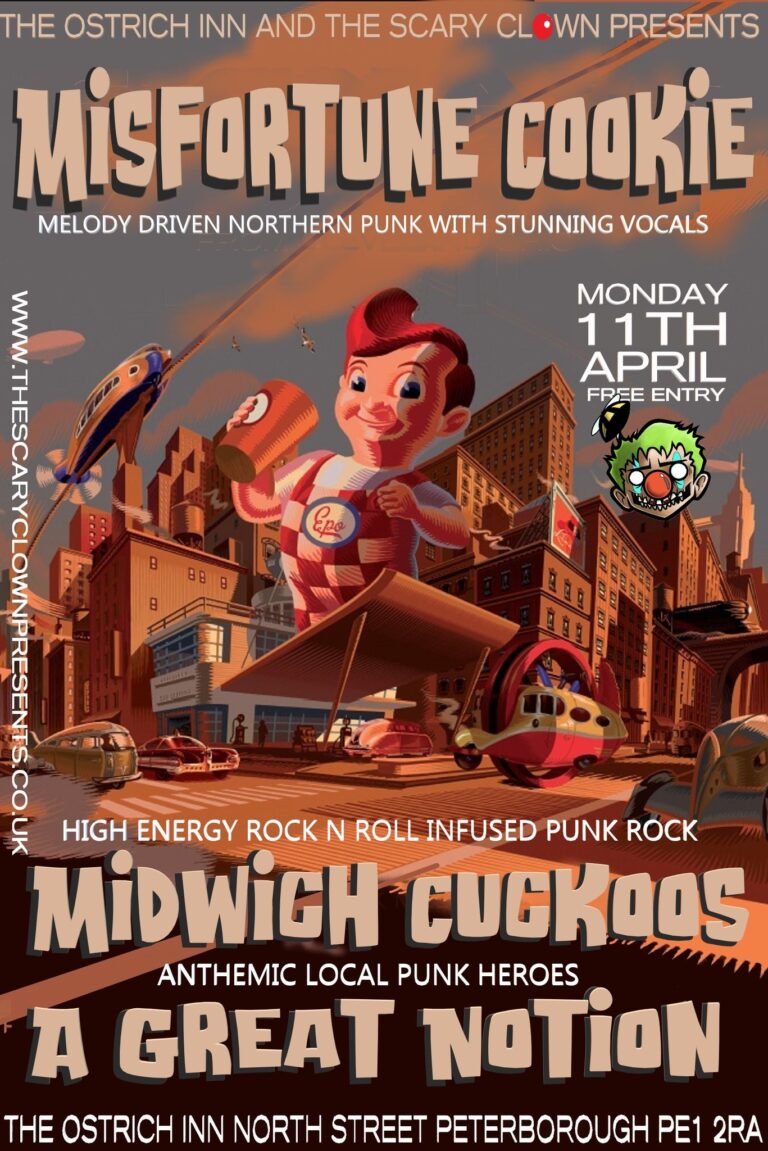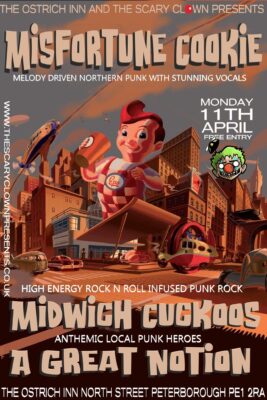 Misfortune Cookie + Midwich Cuckoos + A Great Notion
April 11, 2022
Peterborough, Cambs (UK)
Free
We've got a MASSIVE FREE ENTRY GIG at our 2nd home, the Ostrich Inn (Pboro town center) – another gig in our favourite boozer…
Misfortune Cookie + Midwich Cuckoos
+ A Great Notion @ Ostrich Inn
MONDAY 11th April 2022 – pub open from noon, first band 7.30pm sharp! (it's a school night so earlier finish!)
A pre-Manchester Punk Festival warm-up gig
You hopefully have already seen Misfortune Cookie at one of our gigs – if not they are bloody amazing (3 former members of Bear Trade, plus an amazing female vocalist).  We are so pleased to be able to bring them to the Ostrich Inn for a pre-MPF warm up gig.  Midwich Cuckoos are a band we've repeatedly tried to bring to one of our gigs – a high-energy punk rock band from that there London – their recent videos have been amazing!   Joining the touring bands are local legends A Great Notion – who need no introduction to our regulars, but if you've not seen them before, Jordy's crew brings you some of the sweetest sing-along anthems you'll hear.
So this gig is totally free – we'll probably kick off about 7pm – bring money* for drink and merch – buying something from a band really does help them out! * the bar takes card and cash, but bands normally need cold-hard Sterling!
Let us know you're coming on Facebook:  https://www.facebook.com/events/3726848310872907  and please do share the event there and tell yer mates!
Venue:  2022 CAMRA pub of the year (Peterborough); The Ostrich Inn is our favourite city center boozer – it's a 'local' pub, with proper characters behind the bar.  It's probably the worst shape for a gig ever, but the owner landlords have put in a stage area, lighting, PA and sound desk, and you know what, gigs do work there.  It's as intimate as you'll ever find!  We've had far bigger names in the pub than anyone would ever think, and had some right rowdy nights!  They do great real ales, some craft keg beers, great gins, and hot pies.  It's not a foodie pub, but you're in the town center with lots of other grub choices nearby.   There's a decent-sized car park opposite the pub entrance.  Also a cracking small beer garden outback.   IT WILL BE RAMMED FULL on the night, our gigs always are.