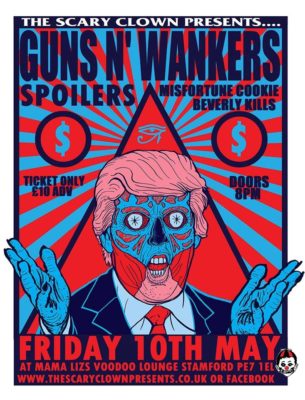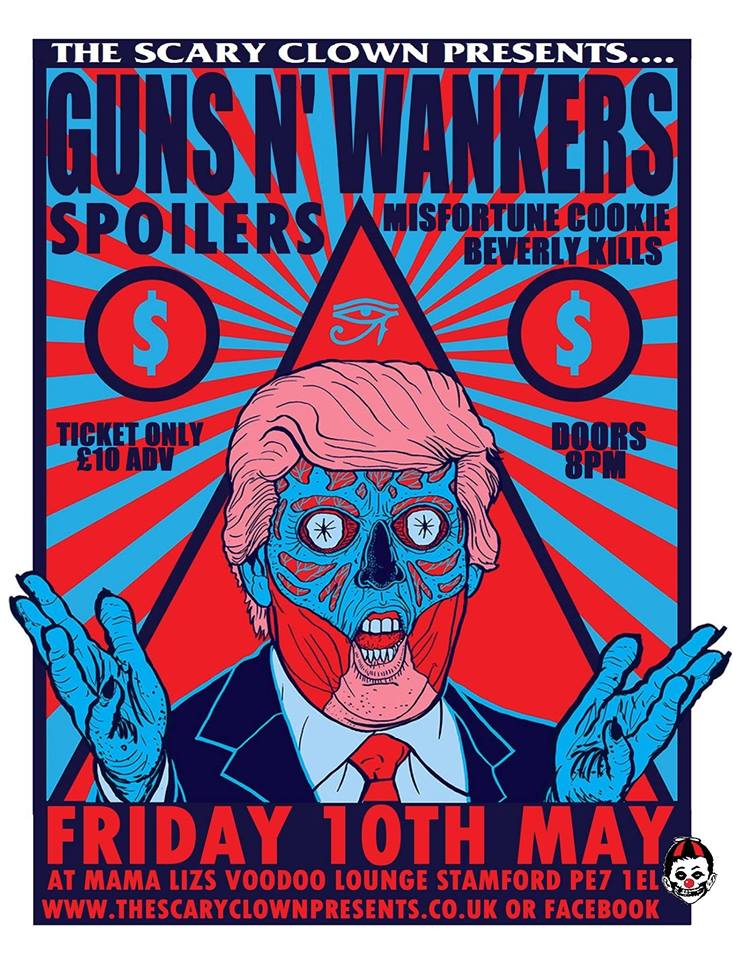 Guns n Wankers + Spoilers + Misfortune Cookie + Beverley Kills
May 10, 2019
Stamford, Lincs (United Kingdom)
Sold Out !
Details
Time : 8pm
Venue : Mama Lizs Voodoo Lounge
Address : 9A North St, Stamford, Lincs
State : Lincs
Zip : PE9 1EL

Yep we are super fecking chuffed to bring you one of the very first gigs for the return of GUNS N' WANKERS (WIKI PAGE)!  Duncan Redmonds returns to the Voodoo Lounge, this time bringing his legendary band Guns n' Wankers with him.  These lads were signed to Fat Wreck Records back in 1994, and split when Snuff re-formed.  But they are back and playing shows this year, and we've managed to snaffle one of their first!  Backing them up with their amazing own brand of fast and catchy punk is SPOILERS.  Making a welcome comeback is MISFORTUNE COOKIE – 3/4s of Bear Trade plus the lovely vocals of Helen, they really made an impression at their first SCP outing.  And filling a very exclusive line-up, it's our very good mates from Cambridge, BEVERLEY KILLS – an absolute joy to welcome them back.

NOTE: This is a Friday show – we normally put on shows on Saturday's at Mama Liz's.
FULL LINE-UP ANNOUNCED:
Guns n Wankers
Spoilers
Misfortune Cookie 
Beverley Kills
TICKET ONLY SHOW – £10.  We expect very high sales for this gig, so we are making it ticket only – get yours in our shop or probably miss out.  You can pay with debit, credit, or PayPal account.
GET TICKETS
VENUE INFO:  Mama Liz's is a great music venue downstairs in the cellar, with a cracking large bar and restaurant upstairs.  So if you're travelling, they do some great bar food – or eat in the main restaurant if you like.  More info on their website.  PARKING:  There's a bug carpark directly opposite the venue – and I THINK parking is free after 6pm, so sorted.  Just pop PE9 1EL into your sat nav.