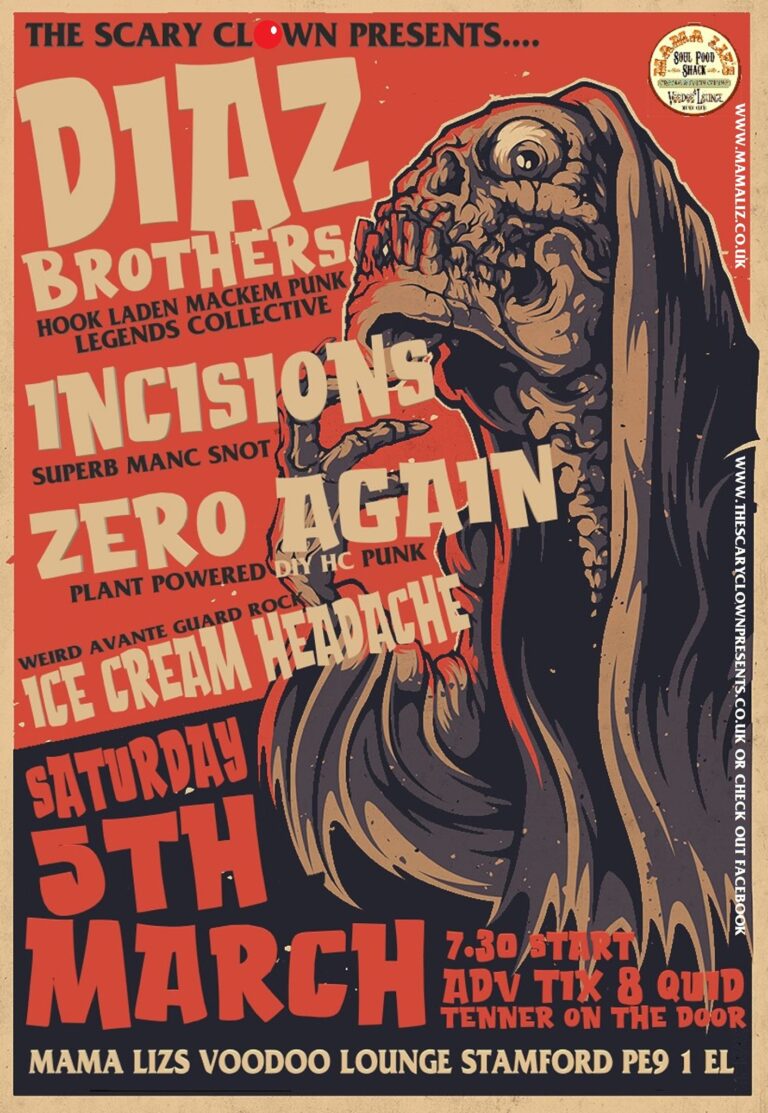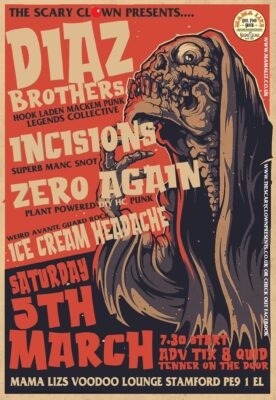 Diaz Brothers + Incisions + Zero Again + Ice Cream Headache
March 5, 2022
Stamford, Lincs (UK)
Details
Time
: 7.30pm
Venue
: Mama Lizs Voodoo Lounge
Address
: 9A North St, Stamford, Lincs
State
: Lincs
Zip
: PE9 1EL
Contact Website
:
http://www.mamaliz.co.uk/
The Scary Clown Presents Diaz Brothers
Diaz Brothers – Featuring past and present members of HDQ, THE JONES, SHUTDOWN, 36 STRATEGIES, LOUDMOUTH, RED ALERT, ANGELIC UPSTARTS, TIED DOWN and many more within their ranks, you know you are in very safe hands here! Go listen to their Self Titled LP released last summer you will not be disappointed!  Listen to album here.
Incisions – Incendiary Punk delivered with urgency and hooks to knock your teeth out too. Check out Bliss released this year through TNS
Zero Again – Blend musicians from bands like Warwound, Regret, Bring To Ruin, Grand Collapse and you get Zero. Zero Again! Bristol's absolutely all-new band that lockdown produced in 2020. A unique mixture of fast and not so fast hardcore punk, aggression and frustration
Ice Cream Headache – a 3 piece rock band from Cambridgeshire, UK. They formed in early 2016 with an intension to bring avant-garde, alternative, progressive, psychedelic rock music to the forefront
Tickets £8 advance – £10 on the door!