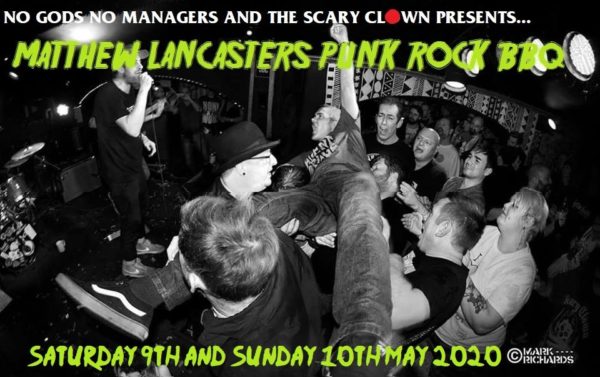 Postsponed for now!
May 8, 2020
Stamford, Lincs (United Kingdom)
Details
Time : 12.30
Venue : Mama Lizs Voodoo Lounge
Address : 9A North St, Stamford, Lincs
State : Lincs
Zip : PE9 1EL
POSTPONED:
Big Langs' BBQ…
A Tribute to Matthew Lancaster
*** DUE TO THE CURRENT CORONAVIRUS ISSUES – IT WOULD BE IRRESPONSIBLE FOR US TO BRING YOU ALL TOGETHER AT THIS TIME.  WE WILL FIND ANOTHER TWO DAYS LATER IN THE YEAR AND RE-ANNOUNCE IN THE FACEBOOK GROUP!  TICKETS PURCHASED ARE STILL VALID – IF YOU CANNOT MAKE THE DATES WE WILL ISSUE REFUNDS AT THAT TIME IF THAT'S OK?!  ***
Our mate and absolute punk-rock legend, Matthew 'bomber' Lancaster passed away on 18th August 2019.   He was always first down the front, first to dance, and last to leave at any punk gig he attended – and he went to a LOT of gigs.   Bands around the world knew him – who could miss the loony with the smile plastered on his face and his special pointy dance, crowd surfing, and just all-round fucking good guy.
We know what he'd want in his remembrance would be a bloody big gig – full of happy people, having a dance down the front in his name.
So we're joining forces with No Gods No Managers to put on one hell of a show on Sat 9th and Sunday 10th May.  That's right, an all weekender!   It will be amazing – we're going to make sure of that.  BBQ, beer and bands.  This will be the biggest gig we'll ever attempt… I'm not sure we'll ever be able to put on two days of punk rock again!
Matty's brother Paul suggested it be a fundraiser to support homelessness as this was a cause close to his heart, so it's going to be that too x
Put it in your diary, more details to come!
WE HAVE NOW CONFIRMED MAMA LIZS FOR FRI 8TH AND SAT 9TH MAY – FRIDAY IS A BANK HOLIDAY
TICKETS:  We will be selling an all weekend ticket  (£20), or Friday and Saturday tickets for £12.50.  Obviously it's cheaper to come all weekend, but we understand if you can't make both days.
UPDATE:  Resist! Vegan Kitchen will be cooking up a storm both days, selling their amazing vegan street food in the large beer garden.
UPDATE:  Friday's entertainment will include BATTLELINES – yep Prin will once again be bringing the street art battle to the room behind the bar in the afternoon.  So music, vegan grub, and live street art!
LINE-UP
Friday
tba
Saturday
tba