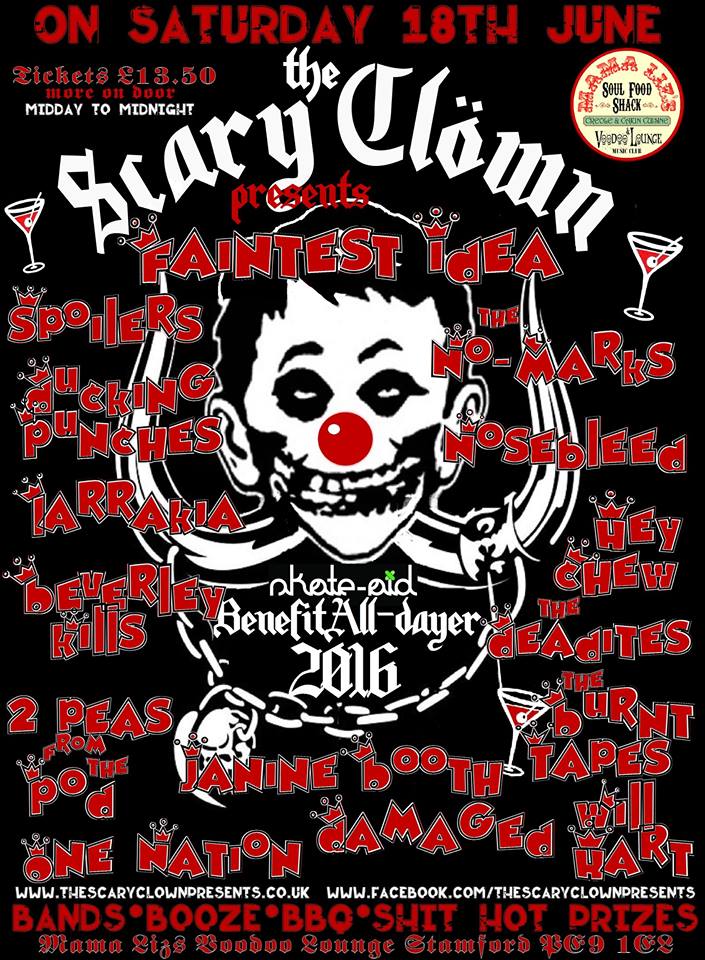 Faintest Idea, Spoilers, Ducking Punches, The No Marks, Nosebleed, LARRAKIA + loads
June 18, 2016
Stamford
Details
Time : 12 noon
Venue : Mama Lizs Voodoo Lounge
Address : 9A North St, Stamford, PE9 1EL

Saturday 18th June 2016. All day madness. Again. Whack it in your diary.

Our annual benefit all dayer will be the best one yet this year. Vegan BBQ will have more delights on offer than before, amazing bands galore in the Voodoo Lounge, acoustic sets and spoken word entertainment indoors on bar level, Krispys one off Craft Beer brew, a full day of fun and entertainment from the heart of the underground all whilst raising some dollar for those amazing folks at Skate-aid.  http://www.skate-aid.org/en

We are releasing band details all the time, but the list below are all confirmed.  We're slowly filling up nicely, even got some political poetry from feminist posh fan Janine Booth during our BBQ chill session.

TICKETS NOW ONLY ON THE DOOR, £15 – see you there!

Check out a gallery of photo's from last year here.  Cheers to Mark Richards!

CHANGE OF LINE-UP:  The Franceens unfortunately had to cancel, but that let us bring in one of our other first picks, Ska Punk Rude boys Faintest Idea!

HEADLINER:  Ska punksters "Faintest Idea" step up as our new headliners, and we have added our mates The Deadites fresh from the Manchester Punk festival to the roster!  15 acts once again!
LINE UP
Voodoo Lounge Early Session:
Damaged 1220 – 1245
One Nation 1pm to 1.25pm
The Deadites 1.40pm to 2.05pm
The Burnt Tapes2.20 to 2.45pm
Hey Chew 3.00 to 3.25pm
Acoustic Session Ground Floor Bar:
Will hart 4.00 to 4.25
Janine Booth 4.35 to 5.05
2 Peas 5.15 to 5.45
Voodoo Lounge Evening Session:
Beverley Kills 6.00 to 6.30
Larrakia 6.45 to 7.15
Nosebleed 7.45 to 8.15
The No-Marks 8.30 to 9.00
Ducking Punches 9.15 to 9.45
Spoilers 10.00 to 10.30
Faintest Idea 10.50 to 11.30
THE BANDS
HEADLINE:  Faintest Idea – https://faintestidea.bandcamp.com/
Spoilers https://www.facebook.com/spoilersuk/
The No Marks https://www.facebook.com/thenomarks1
Ducking Punches https://www.facebook.com/duckingpunchesuk
LARRAKIA https://www.facebook.com/larrakia/videos/921700574612118/?video_source=pages_finch_main_video
Nosebleed http://www.nosebleedband.bandcamp.com/
The Deadites https://www.facebook.com/thedeaditesuk/
The Burnt Tapes http://burnttapes.bandcamp.com/
Beverley Kills http://www.reverbnation.com/q/5t93fz
Janine Booth https://www.facebook.com/JanineBoothTheBigJ
2 Peas from the (Vanilla) Pod https://www.facebook.com/2-Peas-From-The-Pod-1503677676608620/?fref=ts
One Nation https://soundcloud.com/one-nation-uk
Will Hart (ex Electric Cindy's singer)
Hey Chew https://www.facebook.com/heychew/?fref=ts
Damaged https://www.facebook.com/DamagedBandOfficial/?fref=ts


TICKETS NOW ONLY ON THE DOOR, £15 – see you there!