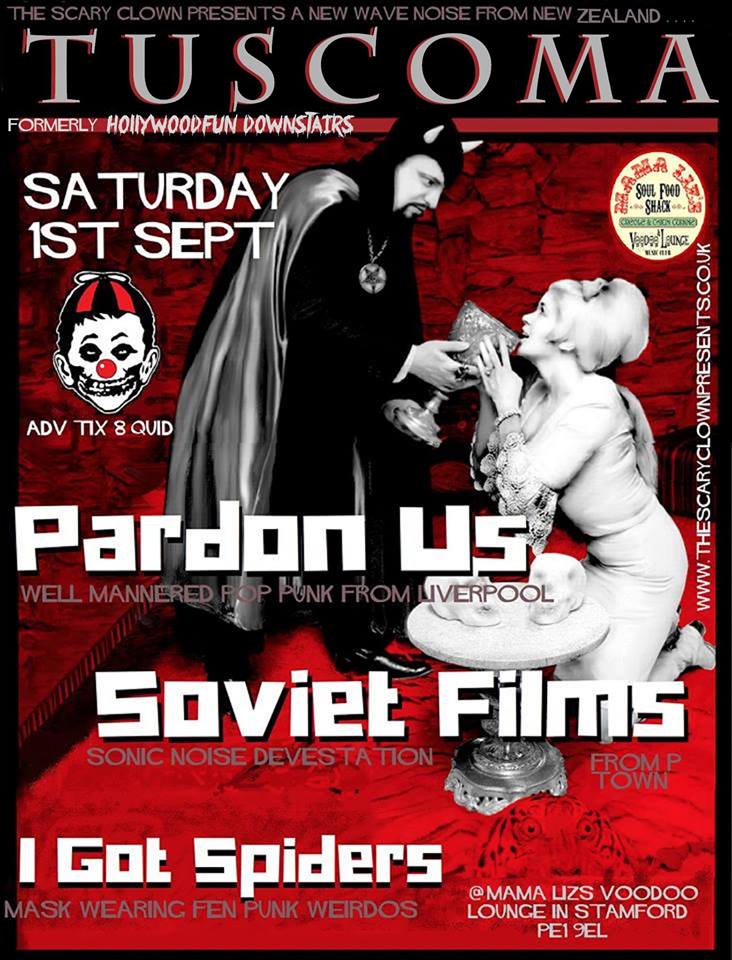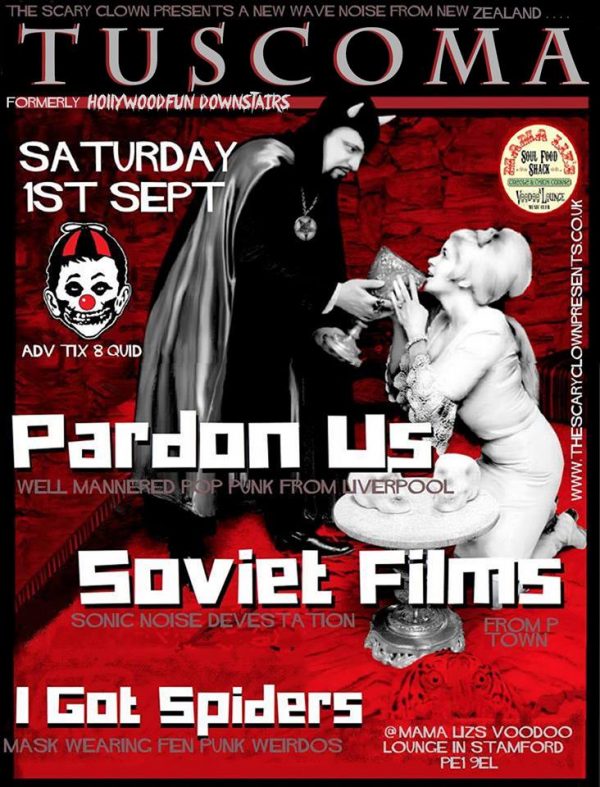 PAY ON THE DOOR,  £8
We are well chuffed to be able to present the amazing duo Tuscoma (previously Hollywoodfun Downstairs) – a truly original wall of sound band, more amazing when you realise it's just two of em. This is part of their UK tour promoting a new album – come and get your ears cleaned out by something really amazing! I caught them at the Pie Race Festival in Leeds, and they blew us all away.
The loudest band with the fastest drummer I've ever seen in all my life…what a blast!!!
https://hollywoodfundownstairs1.bandcamp.com/ https://www.facebook.com/Hollywoodfundownstairs/
Joining Tuscoma are:
Pardon Us – Debut Stamford performance for these Liverpudlians with impeccable manners and banging tunes – http://www.pardonusband.com/
Soviet Films – Pbo rose finest sonic warriors bring their crafted sound bombs to the party. Matty doesn't need any more excuses to Release the Krakken!  https://www.facebook.com/sovietfilms/
I GOT SPIDERS – our gig is complete with our 2nd local support, the return of I Got Spiders.  DIY Grapple Punk from Spalding, Lincs. Ex Members of Kamikaze Hotshot and The Bruze. These guys bring the Mexican wrestling mask to punk – and you don't get that everyday!  https://www.facebook.com/pg/igotspiders/ 
So nearly a year ago we released our 7" on the awesome Everything Sucks Music Here's another video we made for one of the tracks "Carry On". You can get your copy of the 7" from here: https://pardonus.bandcamp.com/album/pardon-us-epWe're playing some shows soon, come hang out:3/2 Oldham, Bank Top All Dayer, Pete Bentham, Murderburgers + more8/2 Liverpool, Sound Free Rock & Roll w/ Villy Raze Vamos and The Vents .9/2 Cambridge, Blue Moon w/ Werecats, Beverly Kills10/2 Canterbury, Davee Wilde Memorial Gig at The MIll w/ Werecats + more11/2 London, Shacklewell Arms w/ Werecats Crystal Piss, Down and Outs16/2 Liverpool, HUS, w/Down and Outs

Posted by Pardon Us on Monday, 22 January 2018