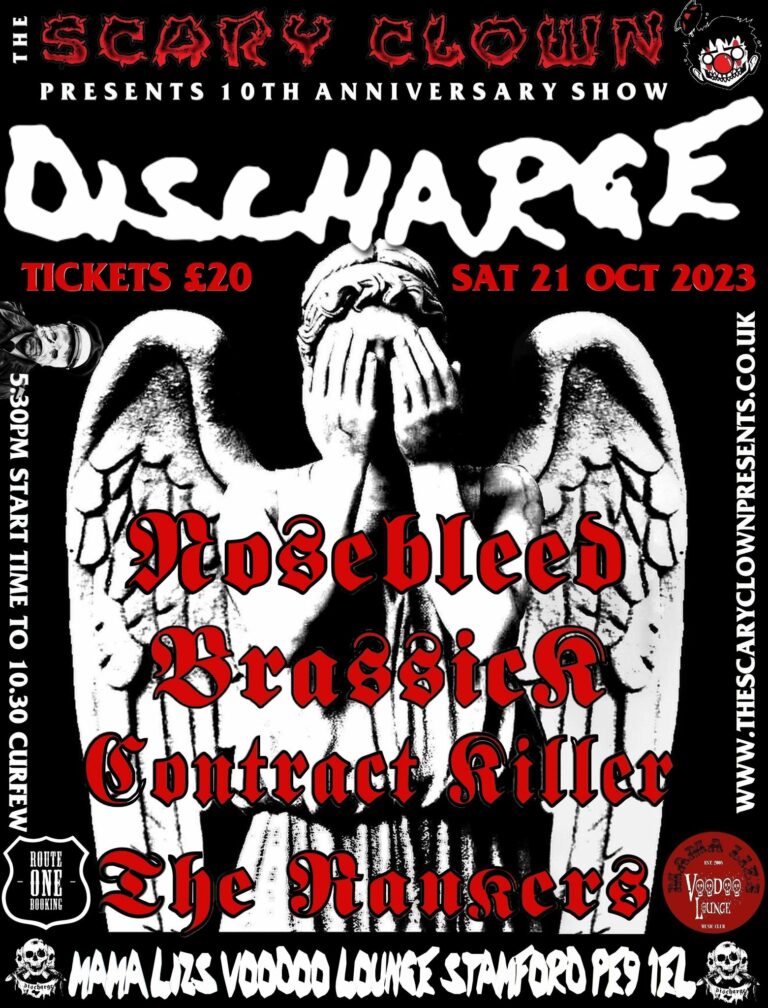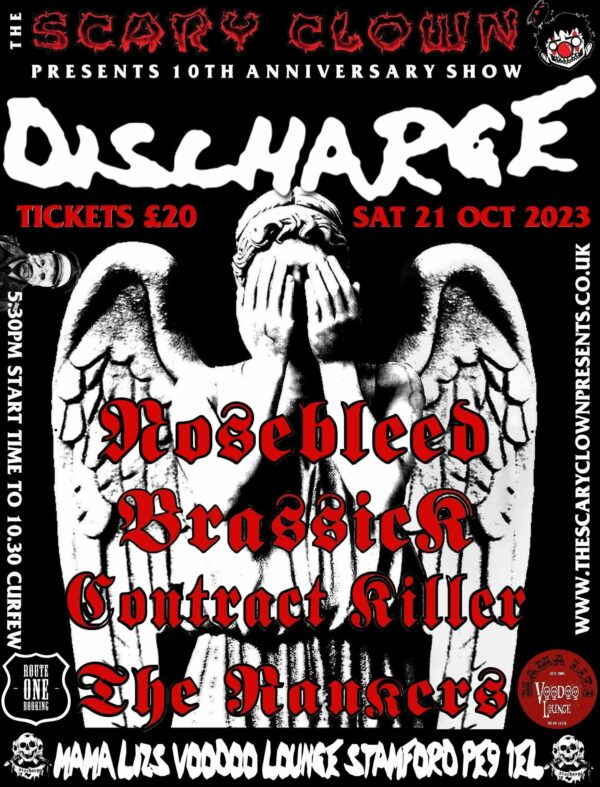 IT'S 10 YEARS OF SCARY CLOWN PRESENTS GIGS!
DISCHARGE AT MAMA LIZS!
We're celebrating in some style with on of our biggest-ever gigs – FIVE bands!
As it's a huge anniversary for us Scary Clown's, we thought we'd go big, probably far too big – buy hey, you wanna party right?  We've got a band that impressed on our teenage minds quite a few years ago, and what's amazing is they are still smashing it at gigs all these years later.  The OG d-beat kings, DISCHARGE come to Mama LIz's Voodoo Lounge in Stamford.  We're not leaving it there – we're bringing some other UK DIY punk favourites:  Nosebleed! Contract Killers!  and local renamed and ready-for-action street punks, The Rankers!
We're having to charge £20 for this one – but I think you can see that's some value – we're probably losing money once again, but it's bloody worth it – just four quid a band.  Saturday 21st October.
It's a big Saturday night at our favourite UK indie venue, Mama Lizs – if you don't know the venue, you're in for a treat we can tell you.  Brilliant venue, with brilliant beer and cocktails, and fab food if you want to make a day of it!  Even free parking opposite, and the dead posh town of Stamford to explore if you fancy it.  It will of course be an early start gig – finishing downstairs at 10.30pm these days due to the venue requirements.
5.30pm Doors, first band 6pm.
— UNFORTUNATELY, BRASSICK CANNOT PLAY NOW – THEY WILL BE BACK AT A LATER GIG! —

SOLD OUT!
The venue downstairs is listed and isn't wheelchair friendly we are afraid, it's down a flight of steps underground and cannot be changed.  Teens are OK with a responsible adult.