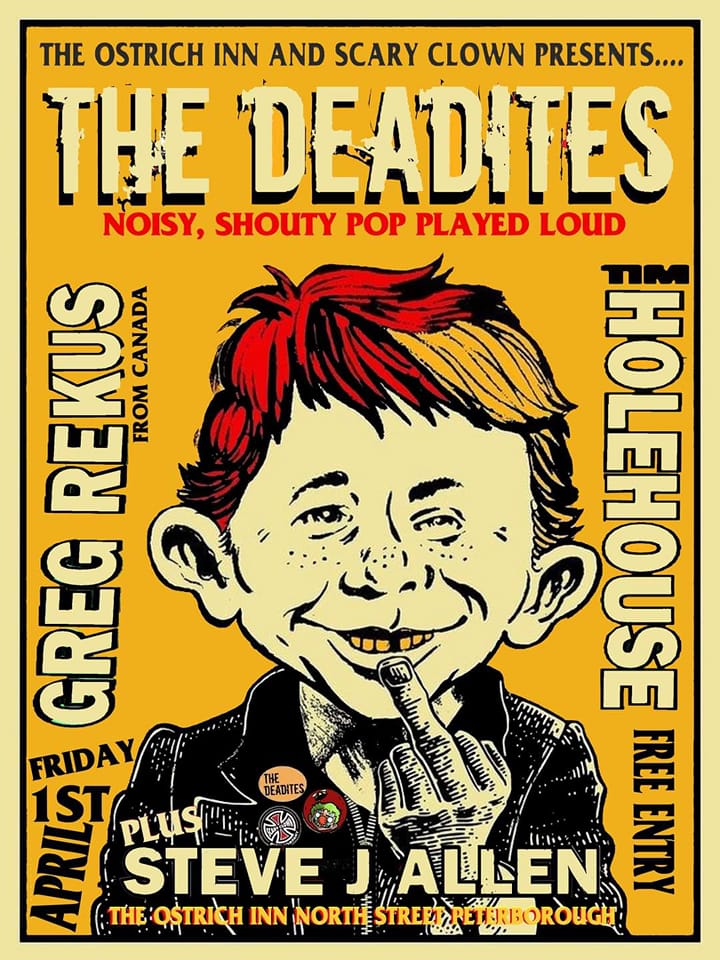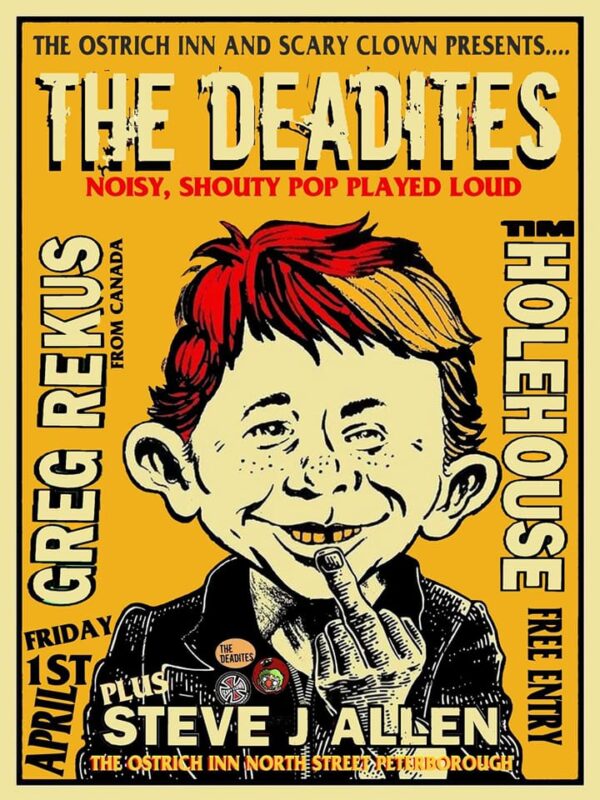 Local legends The Deadites, once local Steve Allen, plus Greg Rekus and Tim Holehouse make welcome returns to The Ostrich Inn, Peterborough.
Both Greg and Tim are old friends of the Scary Clown Presents, and also have warm memories of the Ostrich Inn.  Probably the hardest touring duo you'll ever meet – we're not sure Tim Holehouse even knows where he lives, as he's constantly touring the world with his stunning delta blues voice.  Greg Rekus always ends every performance a total sweaty mess, as he always puts 100% effort into every show – putting his body and reputation on the line every time.
You hopefully already know the lovely lads who are The Deadites – they round the show off with their soulful melodic punk.
Opening the show and a late addition is Steve Allen, who is a singer Songwriter of original acoustic punk & folk, featured on BBC Introducing on Radio 6.
So this gig is totally free – we'll probably kick off about 7.30pm – bring money* for drink and merch – buying something from an act really does help them out! * the bar takes card and cash, but bands normally need cold-hard Sterling!
Let us know you're coming on Facebook:  https://www.facebook.com/events/3726848310872907  and please do share the event there and tell yer mates!
Venue:  2022 CAMRA pub of the year (Peterborough); The Ostrich Inn is our favourite city center boozer – it's a 'local' pub, with proper characters behind the bar.  It's probably the worst shape for a gig ever, but the owner landlords have put in a stage area, lighting, PA and sound desk, and you know what, gigs do work there.  It's as intimate as you'll ever find!  We've had far bigger names in the pub than anyone would ever think, and had some right rowdy nights!  They do great real ales, some craft keg beers, great gins, and hot pies.  It's not a foodie pub, but you're in the town center with lots of other grub choices nearby.   There's a decent-sized car park opposite the pub entrance.  Also a cracking small beer garden outback.   IT WILL BE RAMMED FULL on the night, our gigs always are.