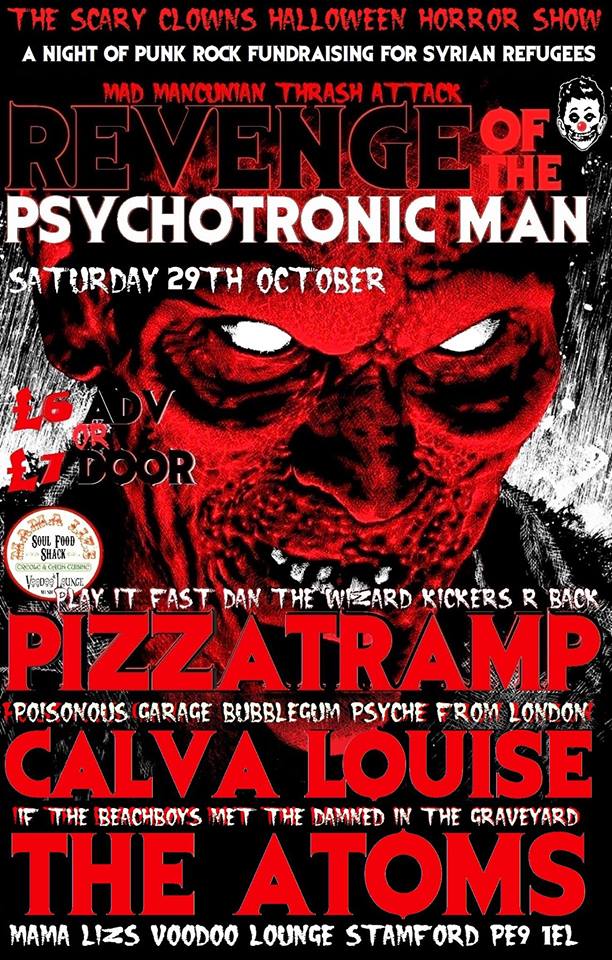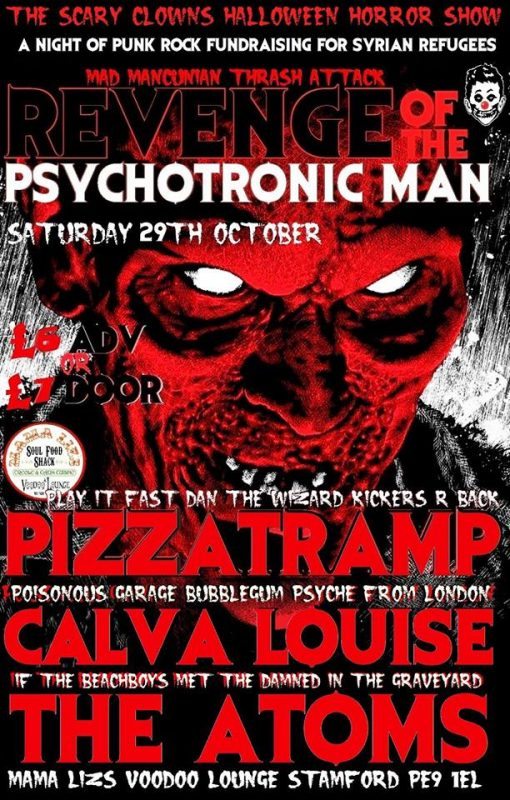 The Scary Clown Presents Halloween Horror Special
The Scary Clowns Haloween Horror show will feature Mad Mancunian thrashers Revenge of the Psychotronic Man bringing a new album full of mayhem with em.  Helping to destroy our fragile sanity will be the fecking fantastic PIZZA TRAMP!   They rampaged last visit, with only two of the three madmen able to make it.  Looking forward to them in full force!  As No Contest had to bail, we're bringing psyched up surf bubblegum punk rock weirdo's Calva Louise up from London, who we've been after for some time now!  A TRIPLE HEADLINER SHOW – oh yes!  As things are never simple Mt. Avenue also had to drop out… which let the fantastic band; THE ATOMS join the fun!  What a mega line-up we're looking at now.
Our friend, lifestyle guru and allround good guy Jay Gearing will be fundraising- more details below
LINE UP UPDATED!
Revenge of The Psychotronic Man
Pizzatramp
Calva Louise
The Atoms (http://theatomsuk.bandcamp.com/)
TICKETS NOW ONLY ON THE DOOR – £7 for all of the above!  THERE WILL BE SPARE TIX.
Charity Stuff
It's official, we will be raising money for Hand in Hand for Syria on the day!   So, there will be a raffle, with loads of shit cool prizes (oh yes they are) and potentially some other fun things we can throw money at. I need not remind you that the people in Syria are suffering on a massive scale. I'm aiming to raise £2,000 in total, not at this gig alone of course, I'm quitting smoking and I will be doing a 30 day challenge (final details of which to come). So as well as donating at the gig feel free to add any donations you can afford below. Cheers, Jay Gearing.
https://www.justgiving.com/fundraising/Jay-Gearing1