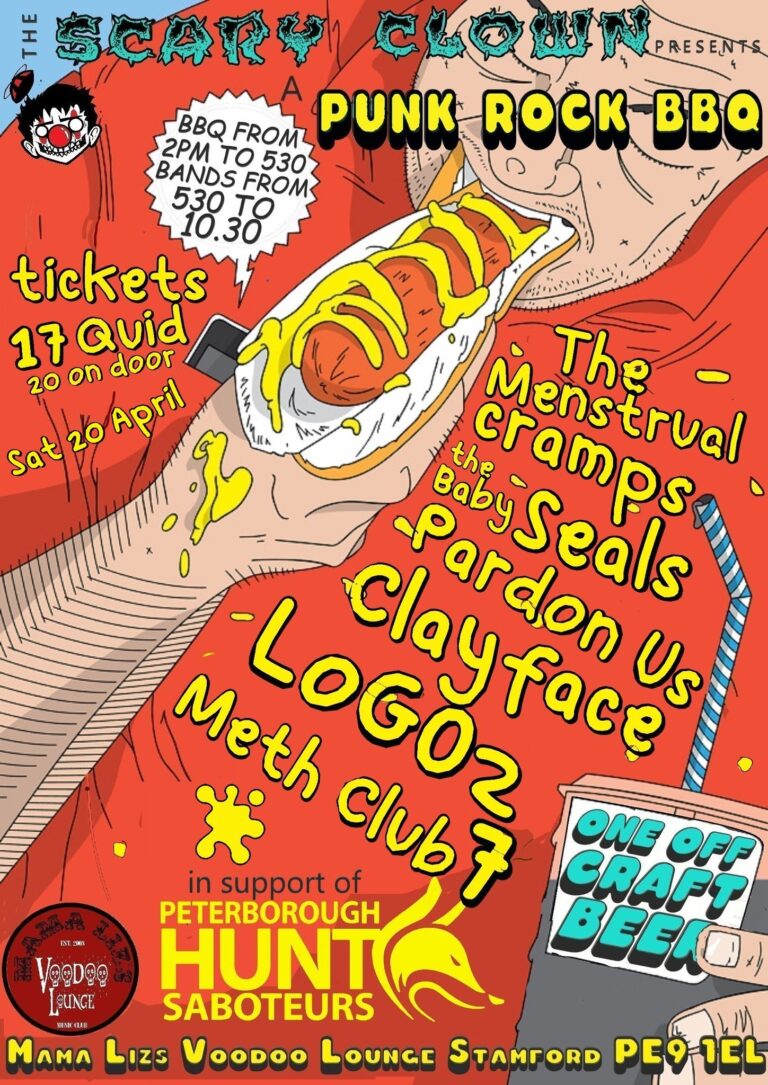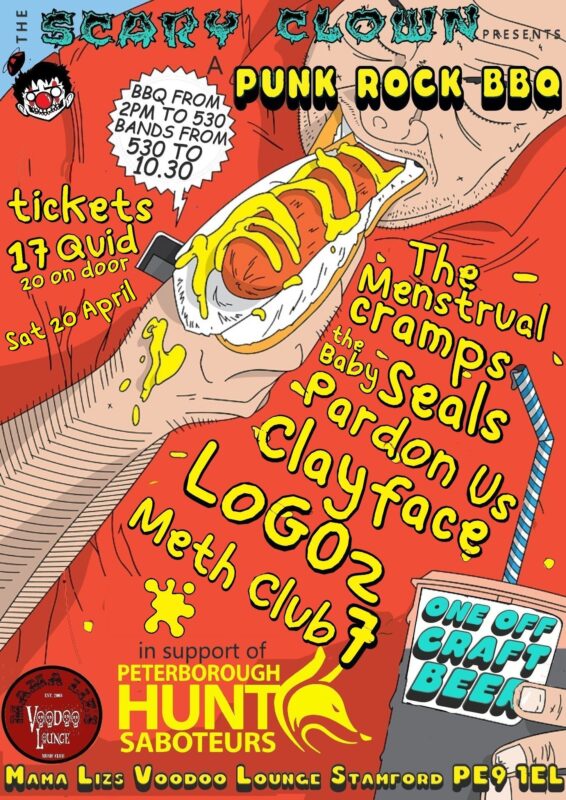 Get Sat 20th April in your diaries!

PUNK ROCK BBQ 2024
A Hunt Saboteurs Benefit Gig
You know the score – our punk rock BBQ all-dayer will be six bands from about 5.30pm onwards (timings TBC), and before that family-friendly chills in the huge beer garden of Mama Liz's from 2pm.  We will be cooking up a vegan BBQ storm, and there probably will be a special one-off charity brew (if we can talk nicely to Wol).
This year we are raising funds for those bloody marvelous HUNT SABATEURS. So all dosh from the vegan BBQ and the special charity brew (plus any donations on the day) will be going their way.  They should also have a stall in the beer garden, where Paul will be happy to chat to you about what they do, and even help you join the cause if it's something you're interested in doing, I know they are looking for new members.  These days it's more high-tech and about monitoring illegal activities.
LINE-UP ANNOUNCED!
The Menstrual Cramps – our headliners have been smashing it up and down the country, and recently signed up to Alcopop Records  . Nazi kicking, guitar swinging, feminist singing riot girls – FINALLY going to make their Scary Clown debut! (we've been trying to do this for years).
Baby Seals – a welcome return for a local feminist punk garage band based in Cambridgeshire. They release their new album just the day before this gig! Unflinching humour is certainly at the heart of their song-writing.
Pardon Us – who doesn't love Pardon Us?  Tight as anything three-piece from up Liverpool away who have played for us on several occasions.
Clayface – a new band for us – although one of the faces you'll recognise, as this is Archie from Incisions 'other' band. We signed em up the second Krispy had seem them play up in Leeds.
LoGOz – in their own words; Schizofrantic Punk Rock Melodica.   First SCP gig but been around since 2012.
Meth Club 7 – as Matty said, with a band name like that, he just had to book em!  They've got a song 'Jimmy and Rolf' with wobbleboard and Stylophone – you know this is going to be great fun with an edge!