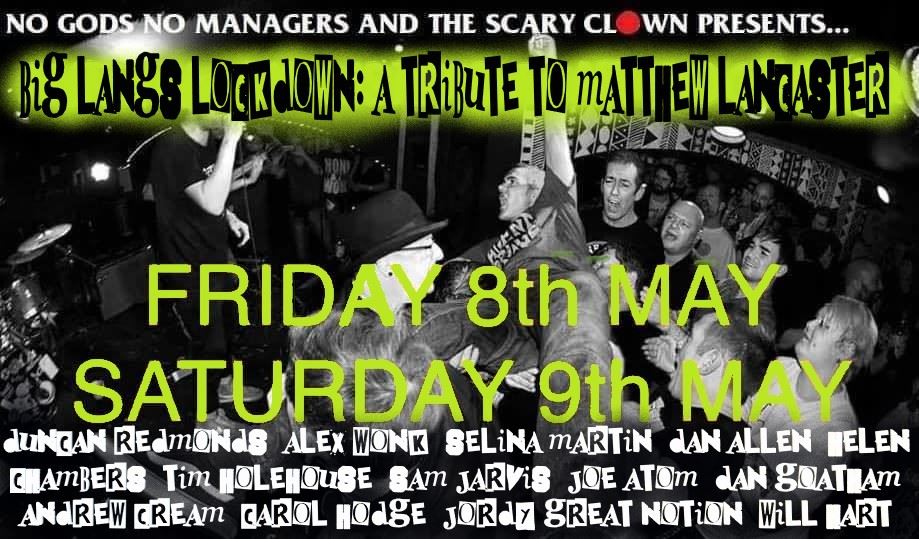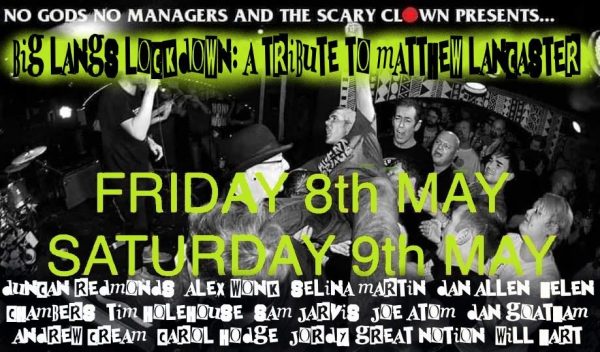 Big Langs' VIRTUAL BBQ…
A Tribute to Matthew Lancaster
*** DUE TO THE CURRENT CORONAVIRUS ISSUES – IT WOULD BE IRRESPONSIBLE FOR US TO BRING YOU ALL TOGETHER AT THIS TIME.  WE HOPE TO  RE-SCHEDULE A PHYSICAL GIG WHEN IT IS SAFE TO DO SO.   
BUT WE WANT TO DO SOMETHING SOONER – SO ARE ORGANISING A GREAT LINE-UP FOR A VIRTUAL GIG INSTEAD, STREAMING ON FACEBOOK.  IT WILL BE FREE – BUT WE WILL WELCOME DONATIONS AS WE STILL WISH TO DONATE TO THE LOCAL HOMELESS CHARITY THAT MATT WOULD HAVE APPROVED OF ***
Our mate and absolute punk-rock legend, Matthew 'bomber' Lancaster passed away on 18th August 2019.   He was always first down the front, first to dance, and last to leave at any punk gig he attended – and he went to a LOT of gigs.   Bands around the world knew him – who could miss the loony with the smile plastered on his face and his special pointy dance, crowd surfing, and just all-round fucking good guy.  We know what he'd want in his remembrance would be a bloody big gig – full of happy people, having a dance down the front in his name.
JOIN THIS FACEBOOK GROUP:  https://www.facebook.com/groups/534391720577300/  as it will be streamed there.  If you join upfront you will receive notifications as each artist goes live with their set.
LINE-UP
6.40 Joe Atom (The Atoms)
7.20 Sam Jarvis (Son of Gun/Fuzzy Dunlop)
8.00 Carol Hodge (Crass/Slice of Life)
8.40 Dan Allen (Ducking Punches)
9.20 Andrew Cream (Live from California)
10.00 Selina Martin (Live from Canada)
6.00 Will Hart (Sprainer)
6.40 Jordy (A Great Notion/Shirka)
7.20 Duncan Redmonds (Snuff/Guns n Wankers)
8.00 Alex Wonk (Wonk Unit)
9.20 Helen Chambers (Misfortune Cookie)
10.00 Dan Goatham (Spoilers)
So we're joining forces with No Gods No Managers to put on one hell of a show on Friday 8th and Saturday 9th May – no longer can it be the original BBQ & Bands events it was going to be – for obvious reasons.  But you can still do your own BBQ, have a few beers chilled and ready, and join us in the daft chat as we enjoy at least six acts per night!
Matty's brother Paul suggested it be a fundraiser to support homelessness as this was a cause close to his heart, so it's going to be that too x – the fund-raiser page is here; https://www.justgiving.com/fundraising/biglangsgig