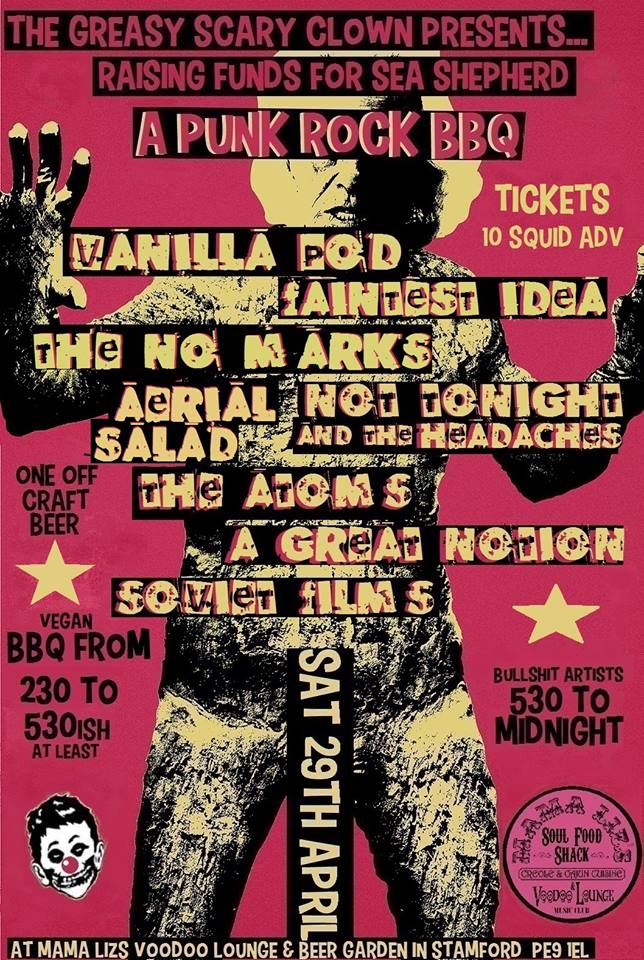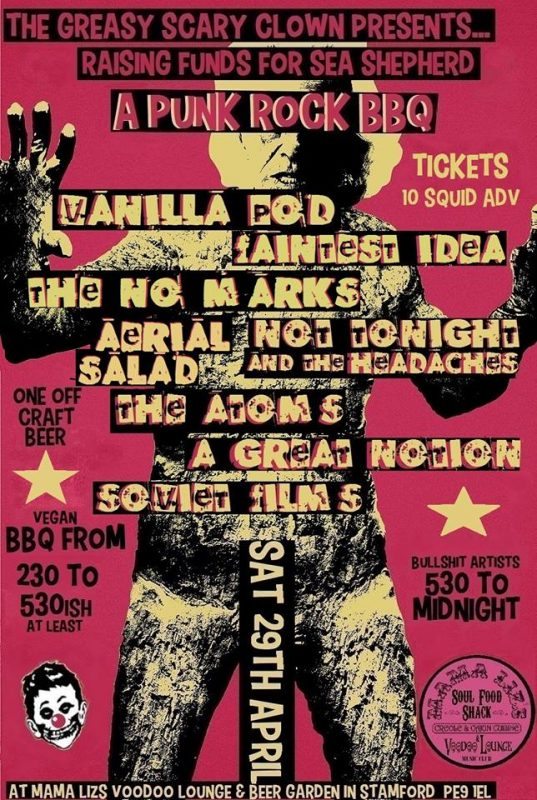 Scary Clowns Punk Rock BBQ and half dayer is an afternoon spent hanging out and BBQing in the awesome surroundings of Mama Lizs followed up with a relentless 7 band onslaught in the Voodoo Lounge from late afternoon till Midnight. Possibly our most fun and best attended date of last year. Will be using this event to raise a few (s)quid for Sea Shepherd too!!!
TIX NOW ON THE DOOR ONLY – £10
Okay final few tweaks and running order sorted all times are approx and subject to influence of alcoholism.
BBQ will Start at 2.30: Come hang and try some of Gareth finest menu yet, expect burgers, pulled jackfruit, seitan kebabs and more. Fully Vegan Menu and gluten free options too!  Plus a vegan craft beer brewed special (obviously lots of lovely drinks at the main bar too!).
BONUS:  Limited Edition T-shirt Prize draw – ALL WHO BUY ADV TIX ARE IN THE DRAW!  Street Trash/Scary Clown tee-shirt in bright punk green!   Put your t-shirt size in the comments when you checkout in case you win!  Tees to be handed out on the day.
APPROX SET TIMES
About 4pm Jordy from A Great Notion will be serenading you whilst you chomp on your BBQ delights in an unplugged set hopefully in the sunshine!!!

5.30 Soviet Films – Sonic Hamster Butchery from PTownhttps://www.facebook.com/sovietfilms/?fref=ts
6.15 The Atoms – Its Joes birthday, its gonna get messy!https://www.facebook.com/theatomsuk/?fref=ts
7.00 Ariel Salad – Manchester New Blood on Alex Wonks Labelhttps://www.facebook.com/aerialsaladband/?fref=ts
7.45 Not Tonight and the Headaches – Sweet pop punk singalongs from Grimsby https://www.facebook.com/nottonightandtheheadaches/?fref=ts
8.35 The No Marks – Welcome return for melody driven Scouse punkers https://www.facebook.com/thenomarks1/?fref=ts
9.35 Vanilla Pod – Anything could happen!!!!! You know the score.https://www.facebook.com/vanillapodrock/?fref=ts
10.30 Faintest Idea – TNS Rudeboy/girl Street Punk back to make you shake!!!! https://www.facebook.com/Faintestidea/?fref=ts
TIX NOW ON THE DOOR ONLY – £10