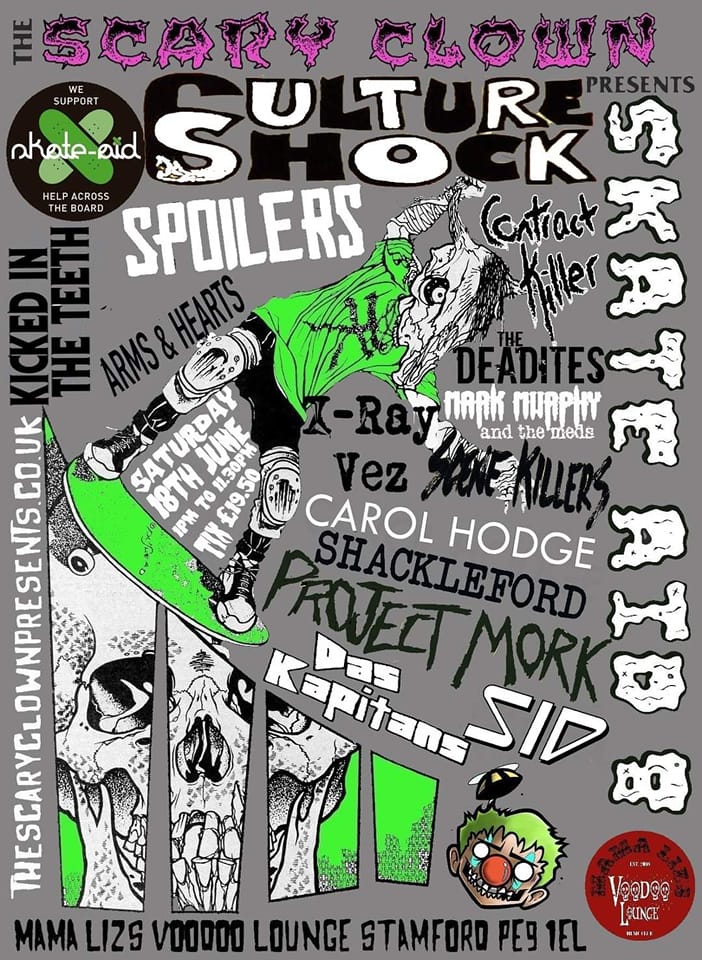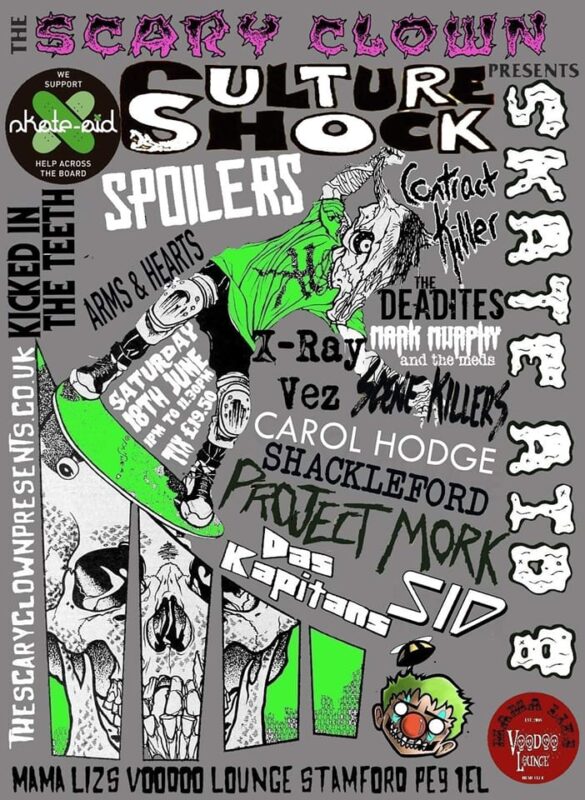 The Scary Clown Presents…
SKATE-AID 8 With Culture Shock
Charity Punk Rock All Dayer @ Mama Lizs
The Scary Clown Presents annual all-dayer is back! Raising funds for Skate-aid and having a raucous time whilst doing it. Expect bands from across the UK, including acoustic acts and some of the best underground DIY bands both new and old. One-off craft beer, vegan BBQ and wall-to-wall good times x   We are so pleased to finally bring headliners CULTURE SHOCK along to Stamford, it's a band we've been fans of for more years than some of you younger ones have been on this planet.
The day starts at 1pm – when we might start the BBQ up in the lower beer garden.  First music is 1.30pm down in the Voodoo Lounge… then after 4 bands some chill time upstairs for food and acoustic session in the main bar's backroom.  Then at 6pm we return to the Voodoo Lounge for six more full-on bands!
Children welcome to the upstairs part (no tix required for food/acoustic session) – teenagers are good to all with a responsible adult.  Tickets are required for the 10 bands playing down in the Voodoo Lounge.  Raising money for our regular chosen charity, SKATE-AID – helping kids in war-torn and deprived areas across the world play again.
SOLD OUT
LINE UP
Culture Shock https://cultureshockuk.bandcamp.com/
Spoilers (with Steve Pod guesting) http://spoilers.bigcartel.com/
Social Experiment https://www.facebook.com/socialexperimentofficial/
Carol Hodge https://www.facebook.com/carolxhodge
Xray Vez (Wonk Unit)
Shackleford https://www.facebook.com/helloshackleford
The Deadites https://thedeaditesuk.bandcamp.com/album/the-deadites
All Fall Down  https://www.facebook.com/allfalldownuk
Scene Killers https://www.facebook.com/scenekillers
Project Mork https://www.facebook.com/projectmork
Sid https://www.facebook.com/sidswastedagain
Contract Killer https://www.facebook.com/Conkills
SOLD OUT!
RUNNING TIMES
1st draft running order subject to change:
Voodoo Lounge 1st Session
==========================
2.00 Project Mork
2.45 TBC
3.30 Sid
Acoustic Session and BBQ Ground floor and outside
=======================================
4.10 Carol Hodge
4.45 Xray Vez (Wonk Unit)
5.20 AJ Simmonds (Wonk Unit / Foxy Acetylene)
Voodoo Lounge 2nd Session
==========================
6.00 The Deadites
6.45 Contract Killer
7.30 Shackleford
8.15 Scene Killers
9.00 Social Experiment
9.45 Spoilers
10.30 Culture Shock
I went out last night to watch Wonk drummer Max Hanman's band [Sid]. I see hundreds of bands year in year out and so rarely does the music move me. I honestly didn't expect what I saw. For 20 minutes I forgot to fuckin breathe. Not since the formation of Slaves (and then Clowns) have I seen such a perfect set. Crossover hardcore at its BEST. I'm not saying this coz he's my friend and drummer. I'm saying this to all my punk friends and promoters because you gotta get on these lovely people. It was the best set of this kind of music I've EVER seen. PURE HARDCORE PERFECTION. This was like their 4th gig but they play like they've been doing it for years. I would have had to up my game last night not to be blown off stage.  I'm so honoured to have Max in my life, thank you so much for reaffirming my faith in music. XxxAlex Wonk