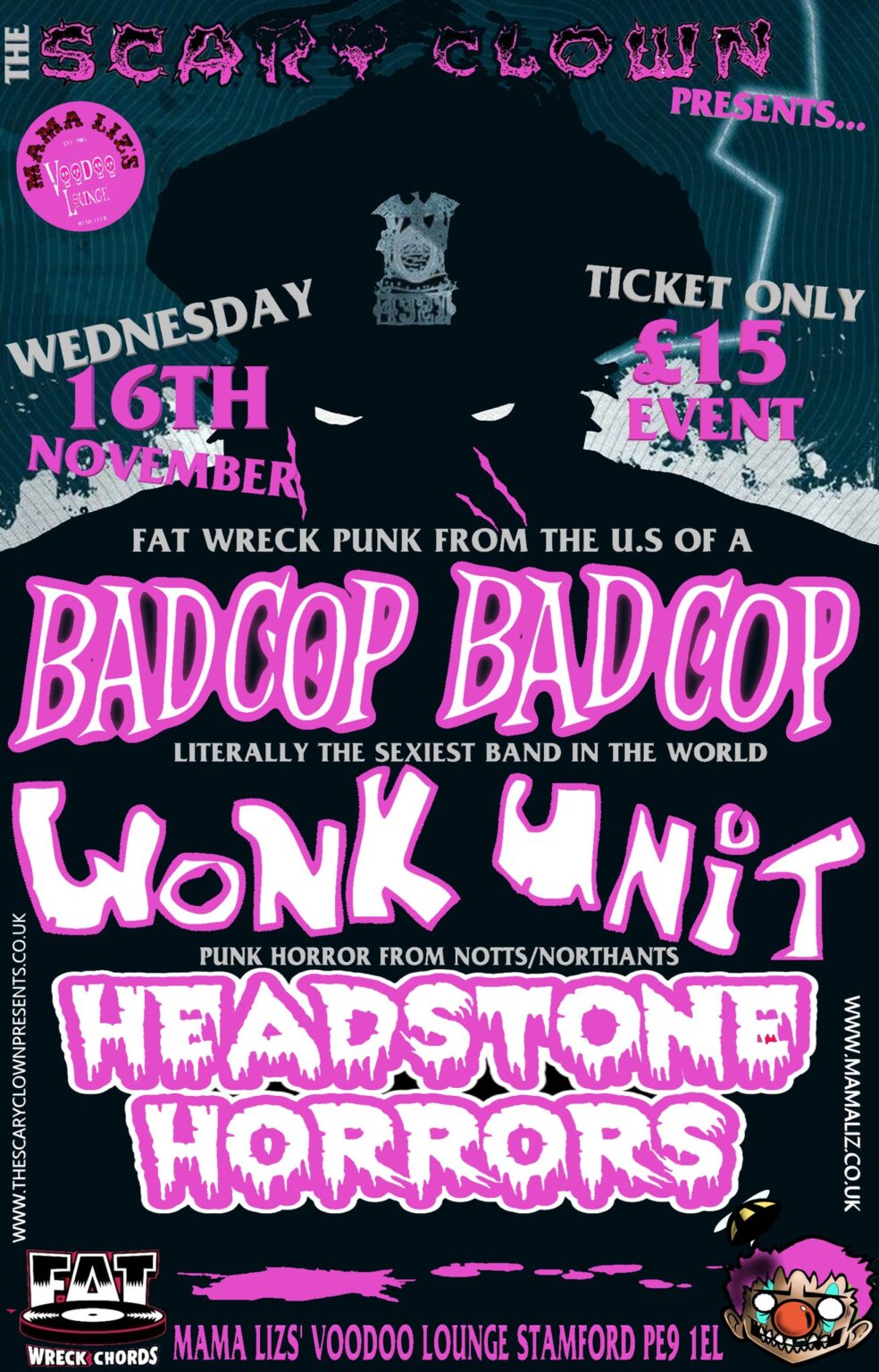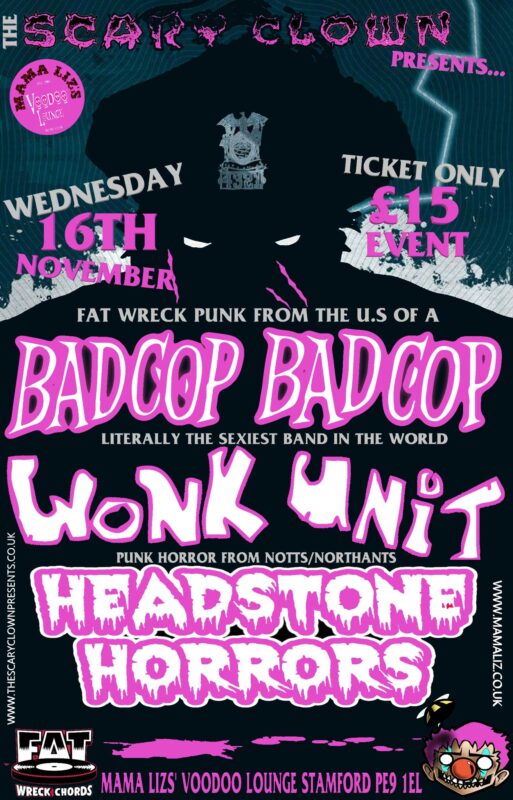 BAD COP BAD COP & WONK UNIT
WEDS NOV 16TH 2022 – MAMA LIZ'S VOODOO LOUNGE, STAMFORD
Yep you've read that right – we have re-secured another top draw Fat Wreck band – coming all the way from California USA, BAD COP BAD COP!!   Unfortunately the 2021 tour was cancelled, but 2022 is happening, and BCBC are coming to Stamford!  And as they are touring with our best mates Wonk Unit – so just as originally planned.  It's going to be another HUGE gig – the original 2021 gig sold out (its replacement with Wonk Unit and Aerial Salad is still happening this year and is currently still sold out).
BAD COP BAD COP of Fat Wreck fame will be touring (a DOUBLE-delayed album launch) Europe in 2022, and will be playing many of the most famous venues in the UK for the DIY punk scene.  That, of course, includes our very own Mama Liz's Voodoo Lounge in Stamford!  Don't ask us how we've done it, or how many body parts we've had to sell to be able to bring you not only our amazing American headliners but also friends of SCP and leaders of the UK scene, WONK UNIT!   Just buy tickets as soon as you can and stop us going even greyer!
Support from HEADSTONE HORRORS!
Please note this is a WEDNESDAY NIGHT GIG!  Doors 7:30pm Wednesday 16th November 2022 @ Mama Liz's Voodoo Lounge, Stamford, PE9 1EL
Ticket are £15 for this one – as it's a massive double headliner banger and it's going to be a bit special like!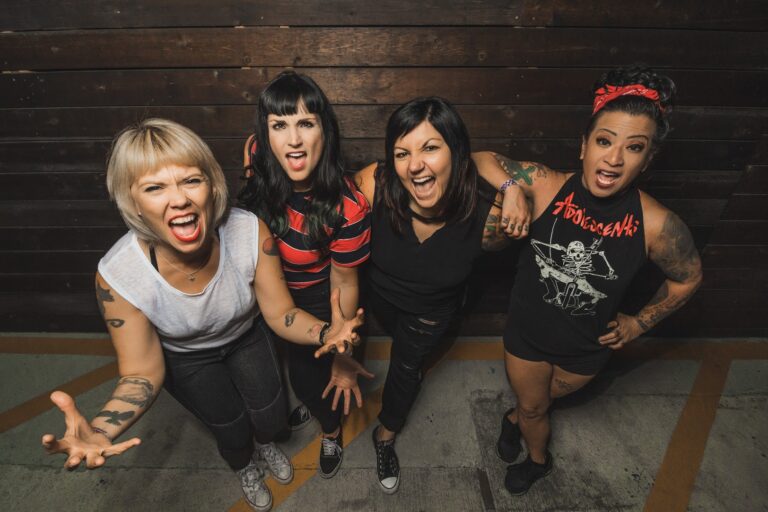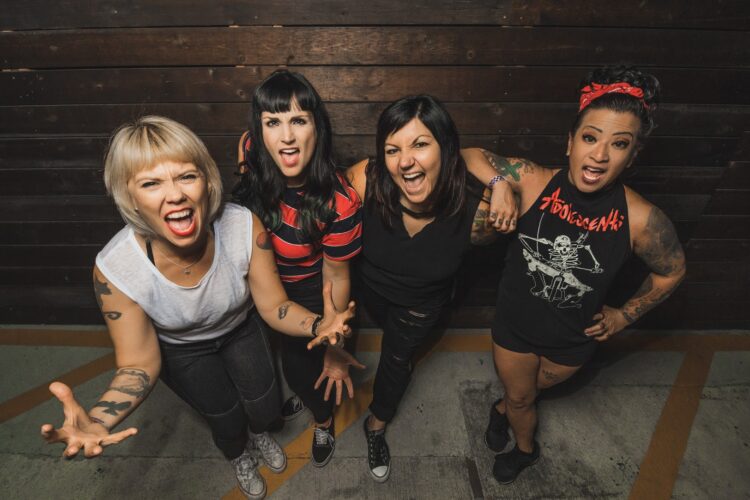 In a time of chronic rage, happiness is revolutionary.
Bad Cop Bad Cop has done angry. The band's 2017 full-length, Warriors, was recorded in the aftermath of the 2016 presidential election. The Los Angeles quartet's new full-length, The Ride (Fat Wreck Chords, June 19th), shows what happens when you come out the other side of that anger.
"It's not that I am just stoked or blind to suffering," says singer-guitarist Jennie Cotterill. "I think anger is a legitimate and understandable reaction to injustice and wrongdoing. It's just that for myself, I am trying to move past 'reaction' into productive 'response.'"
The message BCBC is sending this time around is less about wagging your finger at others, or giving the middle one to the Man, than it is about self-love and acceptance. As Cotterill puts it, "Love is a more powerful truth than anger." That positivity fuels many of The Ride's tracks: "Originators," "Simple Girl," "Community," "I Choose," "Perpetual Motion Machine," and "The Mirage" exude confidence, gratitude, and compassion. In 2020, such things qualify as contrarian.
"These are political statements—self-love is a huge fucking statement," affirms singer-guitarist Stacey Dee. "Self-love means putting a fix on the problems at home before trying to fix everything in the world. It's asking people to find it in themselves to create the life that they really want to have so they're not in turmoil, so they're not in a place of stress and sickness."