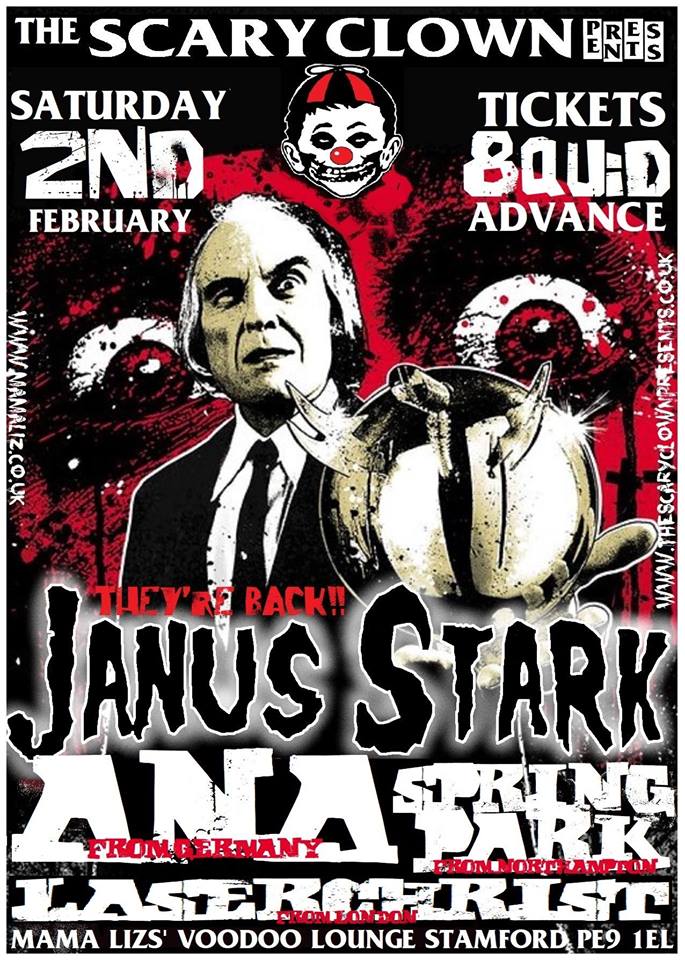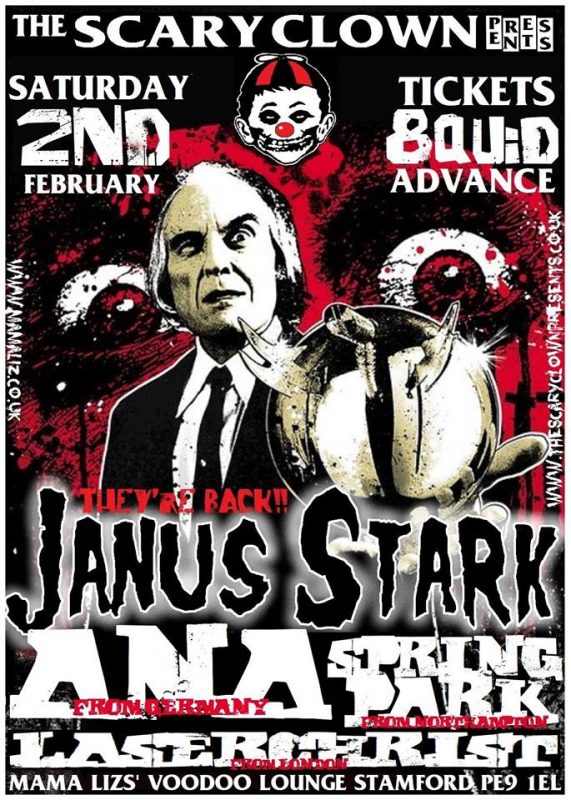 Yep that's right, on their way to world domination, JANUS STARK play their 2nd Scary Clown Presents.. gig, this time bringing their punk tunes to Mama Liz's in Stamford. https://www.facebook.com/JanusStarkBand/  Former 90's pop-punk band Midget's lead singer and guitarist Richard Gombault joins former Prodigy and English Dogs guitarist Gizz Butt in his reformed band Janus Stark – who signed to Earache back in the 90's.  They are an experimental punk rock band from Peterborough, England. Their album, Great Adventure Cigar, was highly rated by Foo Fighters and Die Toten Hosen (Vom Richie asked the band to support for the Die Toten Hosen Live tour 2000 and Campino would introduce and praise the band before each performance) and are a fusion of Punk rock, hard rock, heavy metal and alternative with influences from Helmet to The Ruts to The Beatles to The Clash. Their song "Every Little Thing Counts" was featured on the soundtracks to the 1998 films Disturbing Behavior and Varsity Blues.
ANA – Their friends from Germany, ANA join the party – possibly our first German band?  Very highly rated by Gizz himself; https://www.youtube.com/watch?v=yvxDkkXqSc4
LASERCHRIST – dead chuffed to be able to welcome back these chaps, recommended by Alex Wonk for good reason, they blew us away with their tight set last time they played for us.
SPRING PARK – From the smog-filled factory streets of Northampton come SPRING PARK, paying homage to their punk rock roots and influences of the likes of the Ramones and The Clash.
DOORS 7.45pm, FIRST BAND 8.10pm
TICKETS ON THE DOOR ONLY £8